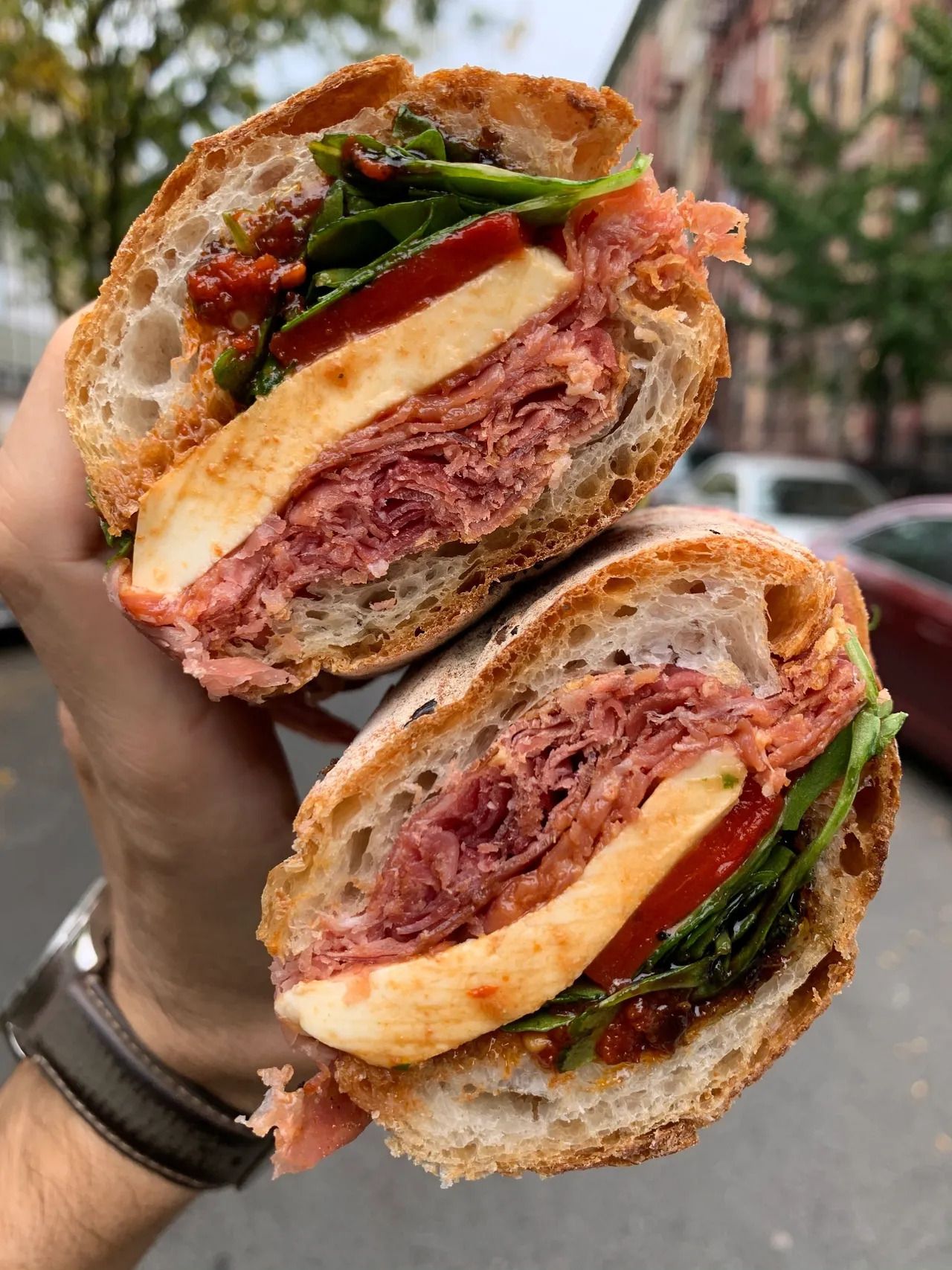 New York sandwiches gave us life in 2021. The best of them offered us hope of better days to come, and nostalgia for great days gone by. Sure, it's a heavy burden to put on a simple dish. But when we started describing calendar years as a "hot mess" rather than reserving that descriptor for our faces after devouring a meatball sub, it was a burden that the sandwich had to take on.
A tour we think you'll love
So, with 2021 coming to a close, instead of dwelling on the year infectiously known as covid 2.0(21), let's instead focus on those handheld morsels of joy by celebrating the 11 best New York sandwiches A Man & His Sandwich ate this year.
And why 11 you ask? Well, rules, time, and the concept of wearing pants at home don't exist in the same way they used to, so why not 11? Also, we just couldn't narrow it down any further, but that's neither here nor there.
11- The Nashville Hot Chicken Sandwich @ Cayenne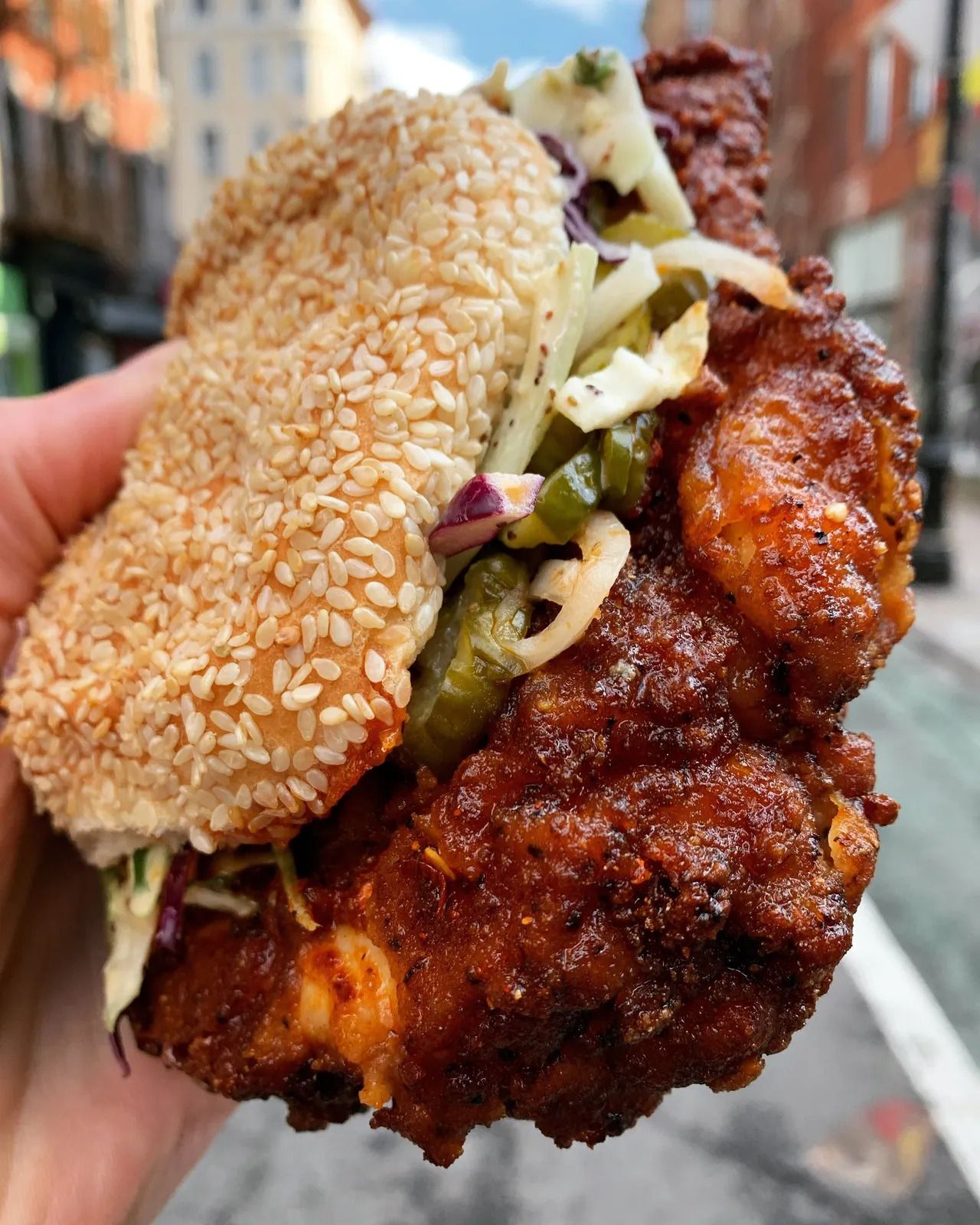 Best New York sandwiches – chicken sandwich Cayenne
Bringing a taste of Nashville to the big apple, Cayenne's Nashville Hot Chicken Sandwiches is a great addition to the very crowded chicken sandwich market in New York.
Despite being a Nashville restaurant, the focus here is definitely on flavor, and not outright spice levels as you may expect from this southern classic. The chicken breast is tender but crunchy, the pickles and creamy coleslaw add a balance to the sandwich and the soft potato bun is the perfect vessel. Whilst the sandwich itself is fire if you want your mouth to feel that way too make sure to order for the hottest version available (you'll be fine, this ain't Prince's level spice).
10 – The E10 Prosciutto Special @ Milano Market Westside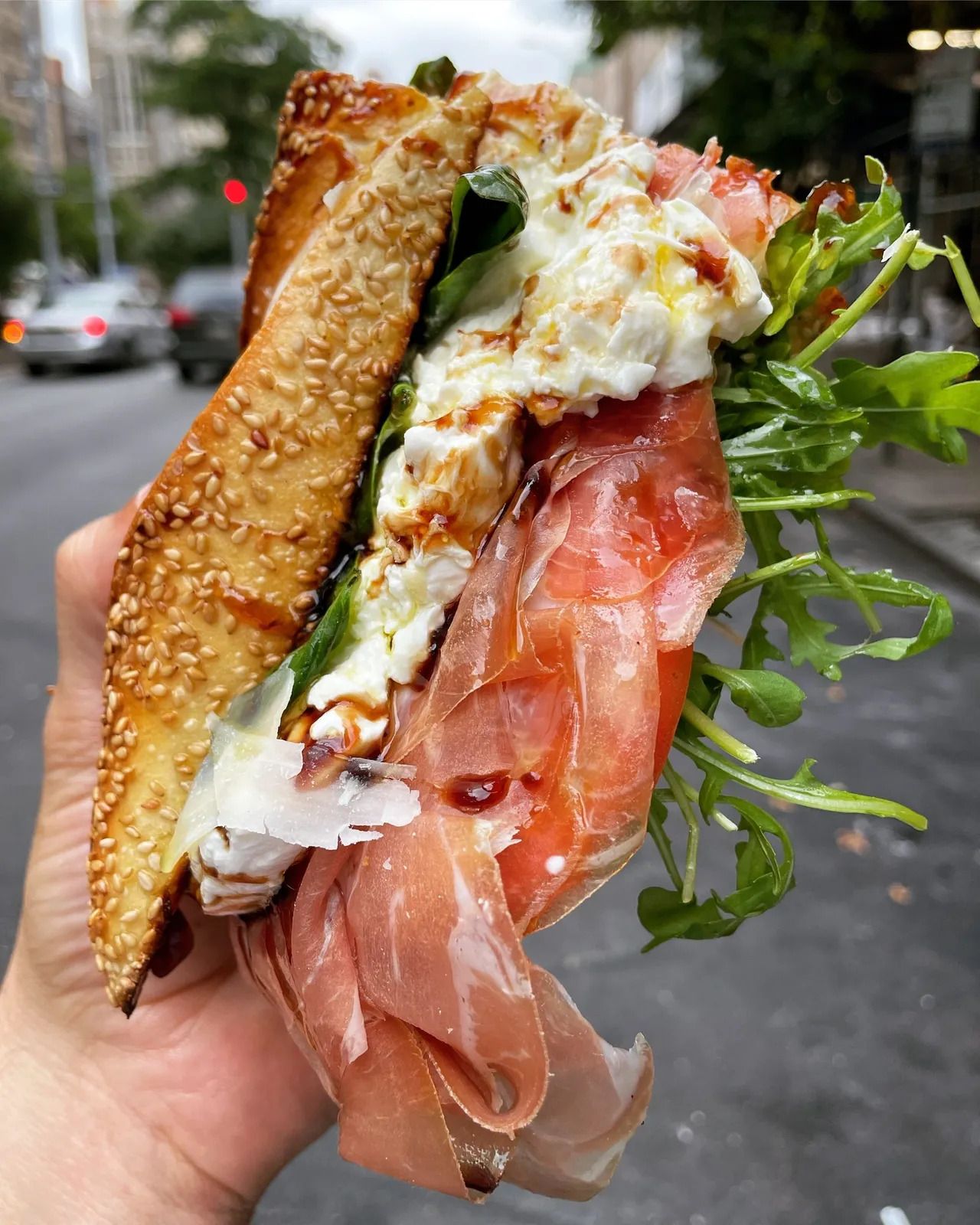 Best New York sandwiches – Prosciutto special Milano Market Westside
This New York sandwich has the dubious honor of being only the second sandwich in history that we could not hold both halves in one hand, after the muffuletta at Central Grocery in New Orleans. But that thing is a car tire masquerading as a sandwich anyway. So well done MMWS on the E10 Special.
Inside this behemoth, you'll find half a pig's worth of delicious prosciutto di parma, alongside shaved Parmigiano, olive oil, balsamic glaze, and fresh basil. But it's the creamy, gooey burrata and, in particular, the sweet fig jam that really sets it apart from your regular deli sandwich. Just be sure to bring a friend to eat this thing with you.
9 – The Chicago Dog @ Dog Day Afternoon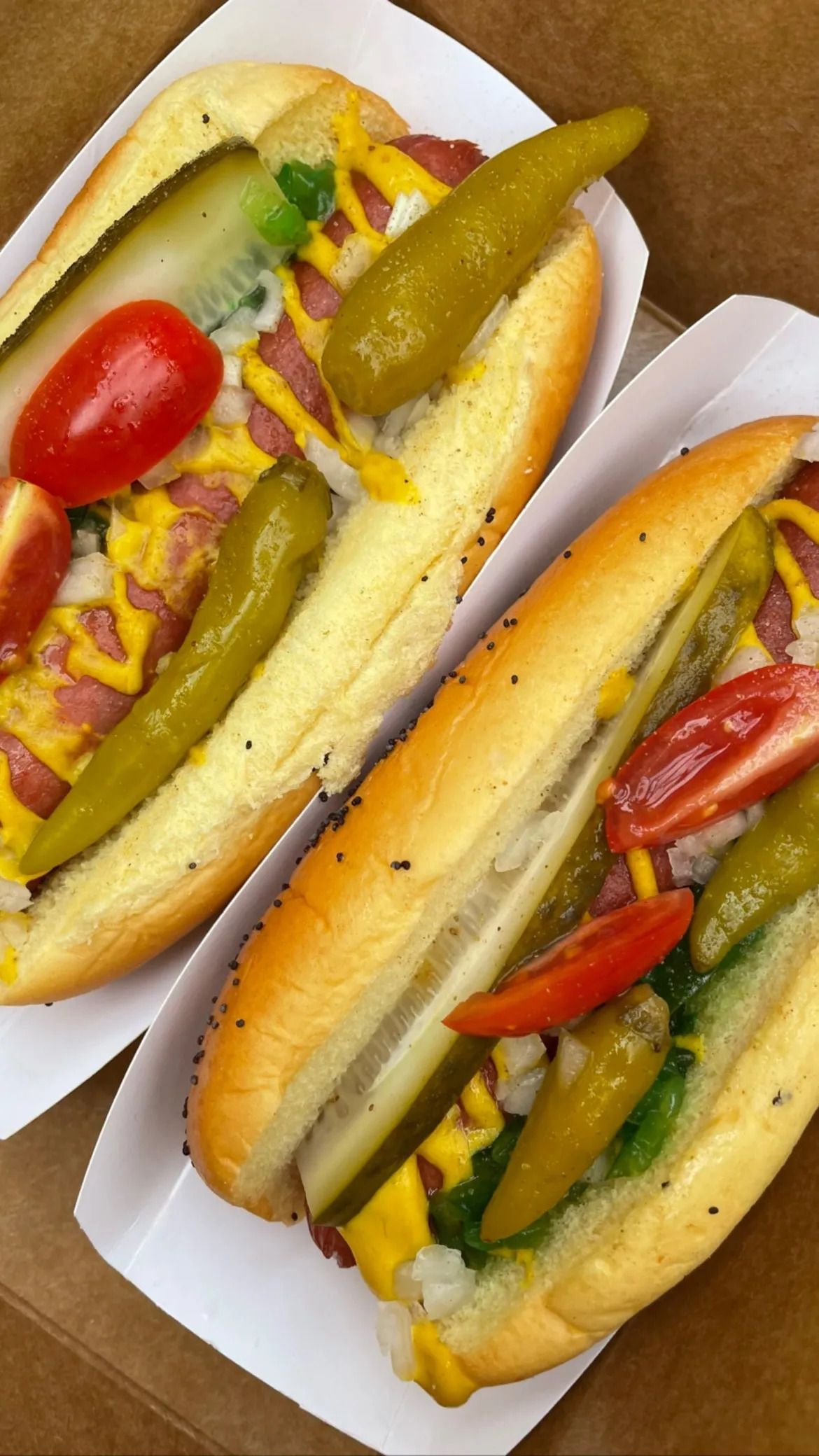 Best New York Sandwiches – Chicago dod Dog Day Afternoon
Yes, it is a sandwich. Yes, it is Chicago style, in New York City. Yes, it is located in the lesser-known neighborhood of Windsor Terrace. Deal with it. Get over it. Then go and enjoy one of the best damn dawgs (or best New York sandwiches) this city has to offer.
The sausage itself is a great rendition, but the accouterments – the kosher pickle spear, yellow mustard, sport peppers, "neon relish", diced onions, fresh tomatoes, and celery salt – really level up this sandwich from the dog you grab from a mid-town street cart and erase any conjecture as to the dish's status as a sandwich. The steamed seeded bun also demonstrates the authenticity of this sandwich as a true Chicago dog, as I'm told by native Chicagoans.
8 – The Pastrami Reuben @ Frankel's Deli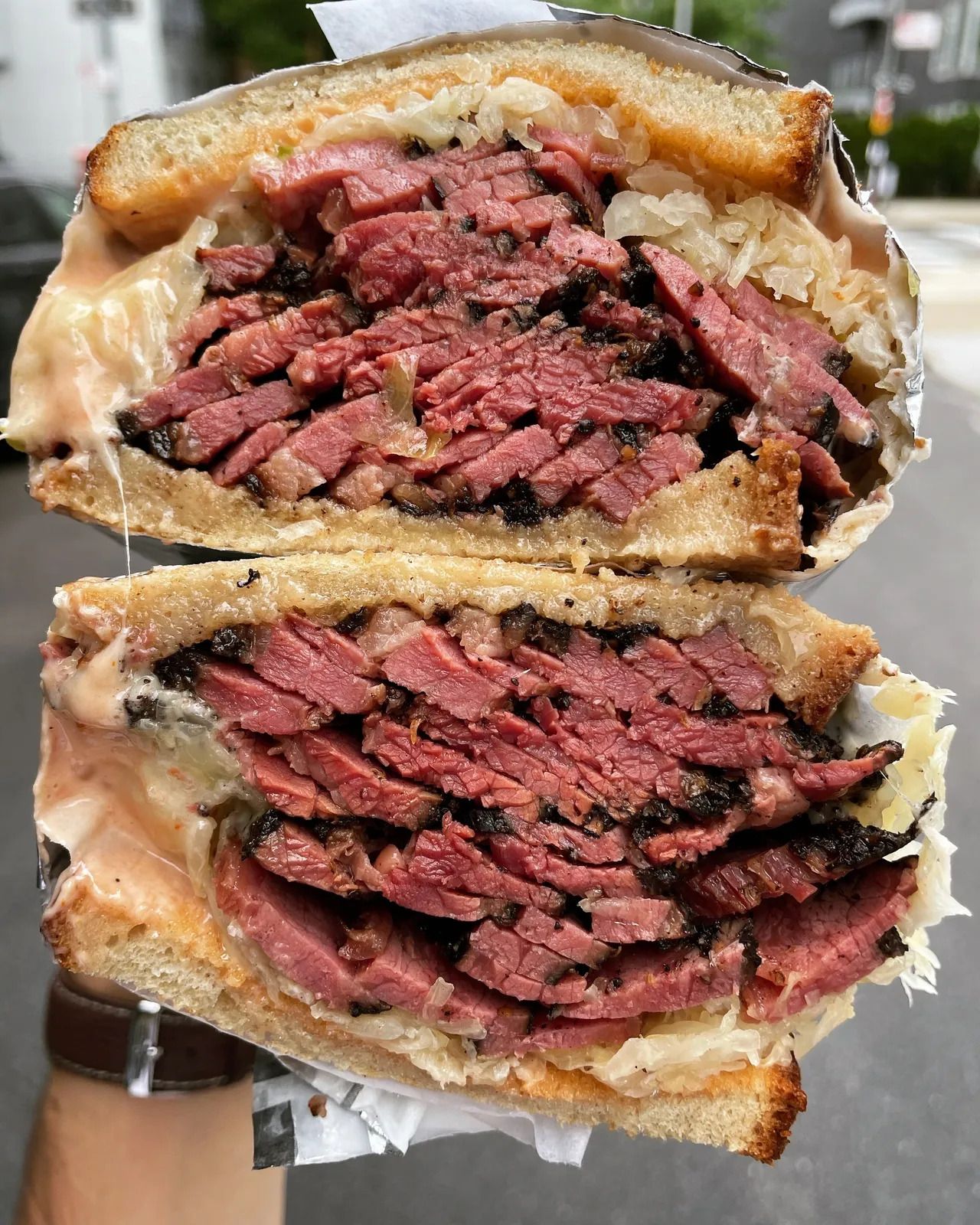 Best New York Sandwiches – Pastrami Reuben Frankel's Deli
Of course, a list of the best New York sandwiches has to have a pastrami or Reuben sandwich on it. I mean, they are both New York staples (until you realize the Reuben was actually invented in Omaha Nebraska, but shhhhh!).
Now, technically a Reuben should be served with corned beef, but try convincing yourself of that when you bite into the mouthwatering pastrami version at Frankel's. Hearty slices of the wonderfully tender and fatty pastrami are stacked like Jenga pieces, calling out for your tongue to tumble them down your throat. The tangy sauerkraut cuts through the meat and the Russian dressing sweetens the entire dish, whilst a light toasting of rye bread helps hold it all together.
7 – The Lamb Banh Mi @ Hometown BBQ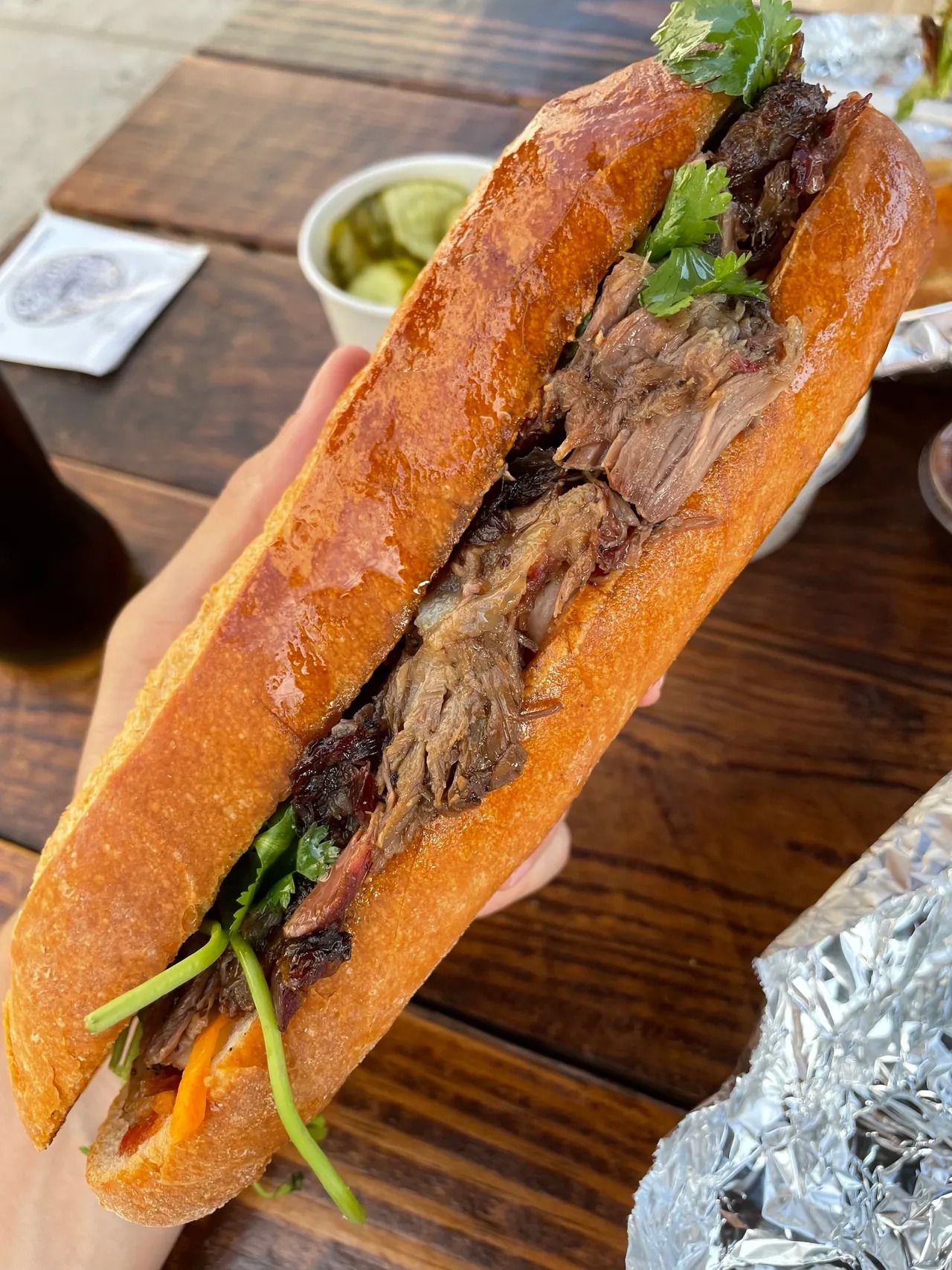 Best New York Sandwiches – Lamb banh mi Hometown BBQ
Honestly, there are at least three or four sandwiches that we could have chosen from Hometown to make the best New York sandwiches of the 2021 list. From the brisket to the smoked turkey to the weekend-only pastrami. But the lamb banh mi is truly special.
Fusing together classic Vietnamese flavors found in the pickled daikon, carrot, and cilantro, with a hot & sweet sauce drizzled over lamb belly that has been cooked to perfection, delivers an almost ethereal experience. Eating this amazing sandwich feels familiar, but mind-bending new and refreshing all at the same time. By the time you get to the last bite, it becomes truly unfathomable that you've never had a lamb banh mi before this one. You'll certainly be getting another one though.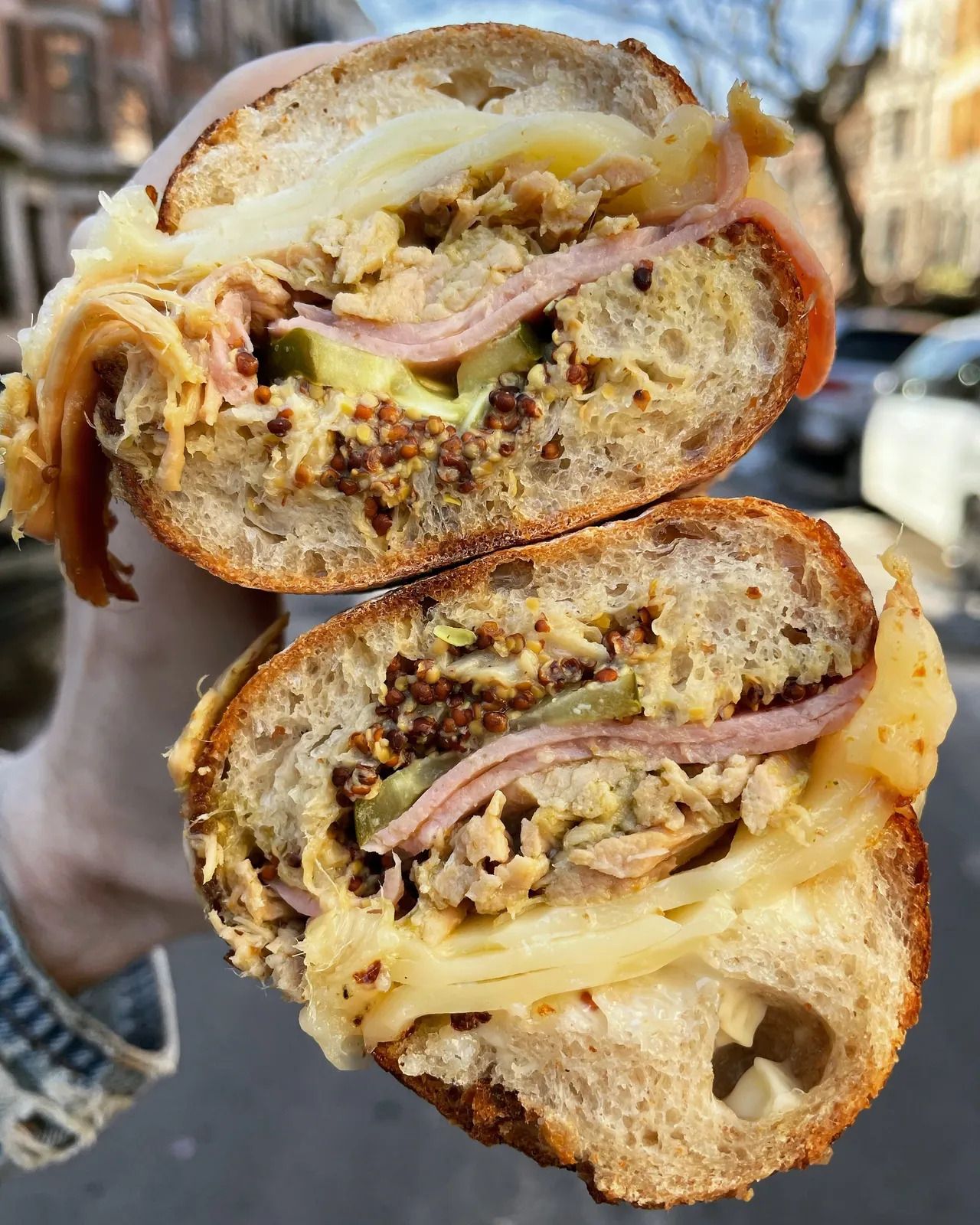 Best New York Sandwiches – Cubano Winner
The name says it all for the #6 sandwich on our list of best New York sandwiches of 2021 For a city that has a scarcity of great Cubanos (shout out Margon and Cafe Habana), this newcomer is a breath of fresh air. The bread is exceptional, as you would expect from an artisanal bakery, but so are all the elements of this Cubano sandwich. The citric, fresh, and salty mojo braised pork shoulder, the elegant jambon de Paris ham, the Swiss cheese, tangy pickles, seeded mustard that playfully pops between your teeth, and mayonnaise on a toasted baguette that crackles spectacularly as you drive your incisors through it. Chicken dinner.
5 – The Uncle Jimmy @ Regina's Grocery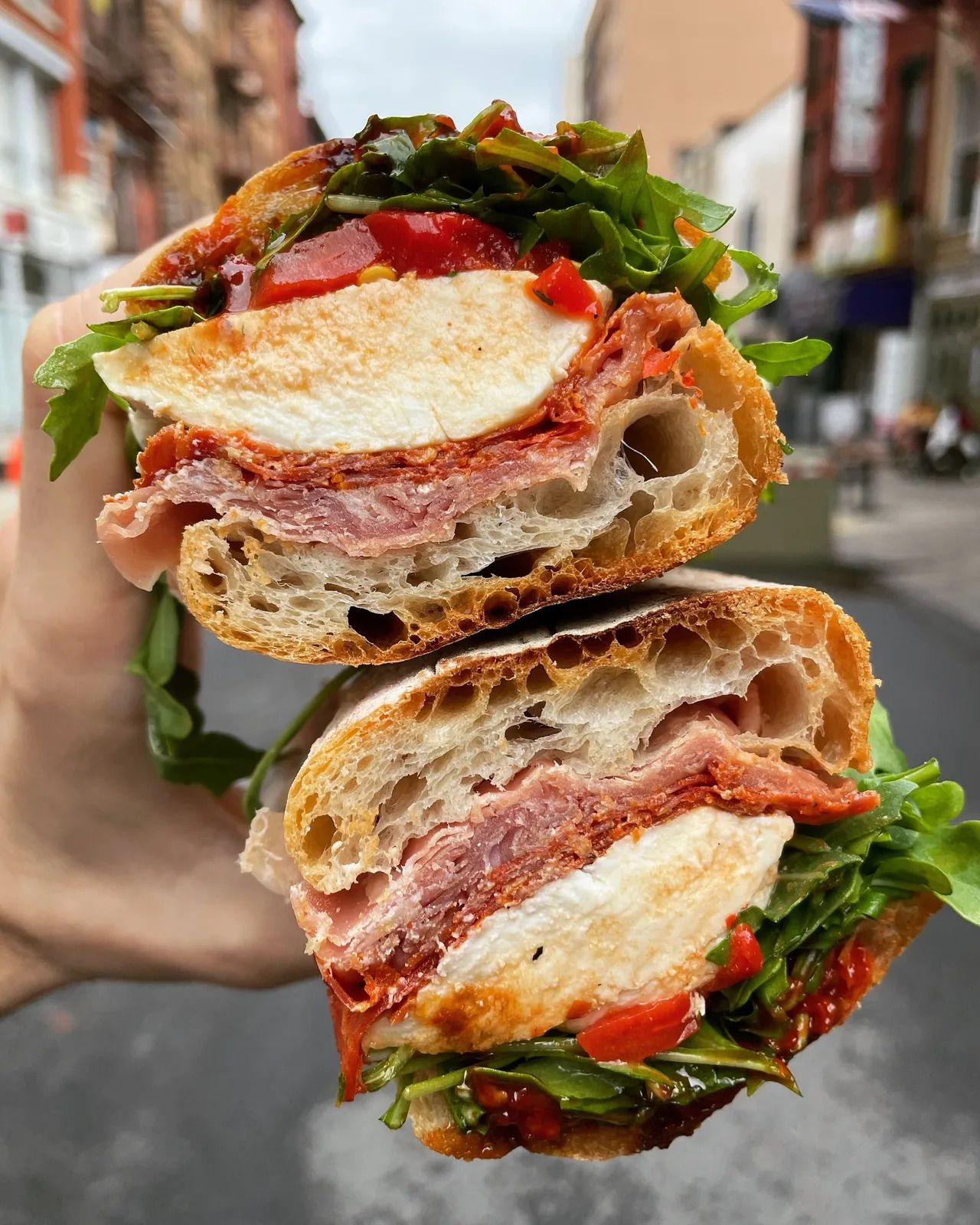 Best New York Sandwiches – Uncle Jimmy Regina's Grocery
Some people argue this may be the best Italian sandwich in the city. Some of them are called Ben (hi!). The recent opening of a second Regina's location in Nolita this year lends credence to that argument.
Uncle Jimmy has all of the ingredients you'd expect from an Italian – a plethora of pig (prosciutto, soppressata, ham), mozzarella, arugula, balsamic, peppers, EVOO, and some spice (Regina's Hot Pepper Spread). But more important than the ingredients themselves is the tangible taste of care and the love that is put into each sandwich. It is something that only comes from a family-run shop like Regina's. In fact, this sandwich is so good that it would have snuck even higher up the list of best New York sandwiches but for the fact we made exactly 471 versions of this sandwich ourselves this year on our Online Sandwich Masterclass. Lol.
4- The Hot Honey Chicken Sandwich @ Double Chicken Please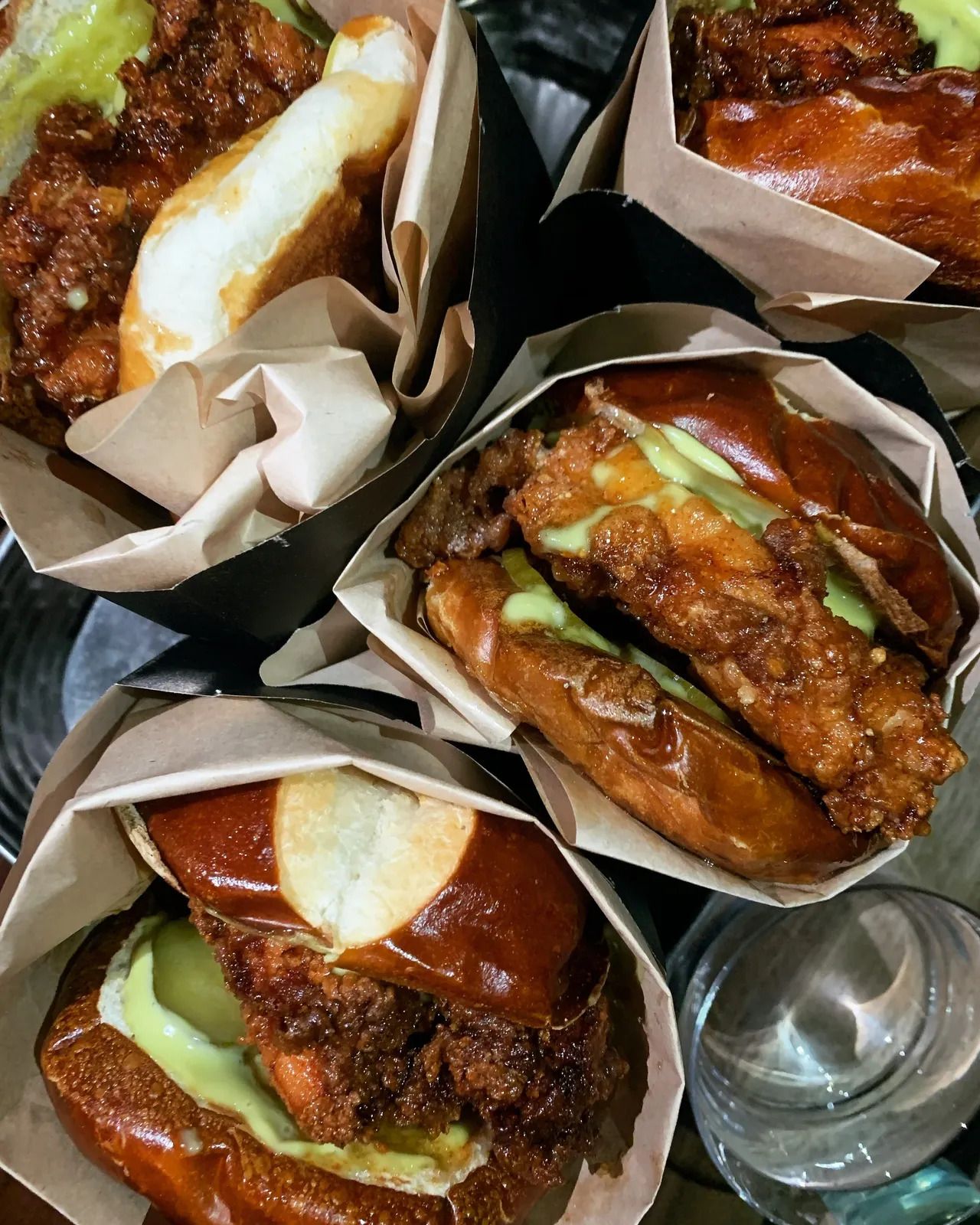 Best New York Sandwiches – Hot honey chicken sandwich Double Chicken Please
When you hear that a new chicken sandwich shop is opening on the Lower East Side, a certain picture forms in your mind. Then you walk into Double Chicken Please and instantly realize everything you knew about chicken sandwiches was wrong. Inside this glamorous, inventive, and simply exceptional 'chicken shop', DCP slings gourmet sandwiches alongside sensory-bending drinks that transform food – like a Waldorf salad or French toast – into cocktails.
The hot honey chicken sandwich hits harder than your positive covid test results 48 hours before Christmas with grandma. Whilst the sweet and spicy mix of the honey is the headline act of the chicken sandwich, it is the opening act of Thai basil that steals the show. The fresh aromas and earthy taste overlaying that sticky honey are perfect. The chicken thigh itself is crisp and soft where it needs to be, and the pickles bring the required acidity to the dish. Oh, and the choice of buttermilk bun over brioche (because please NYC, let's move on from brioche already!) is a masterstroke.
3- The Smoking Fox @ Foxface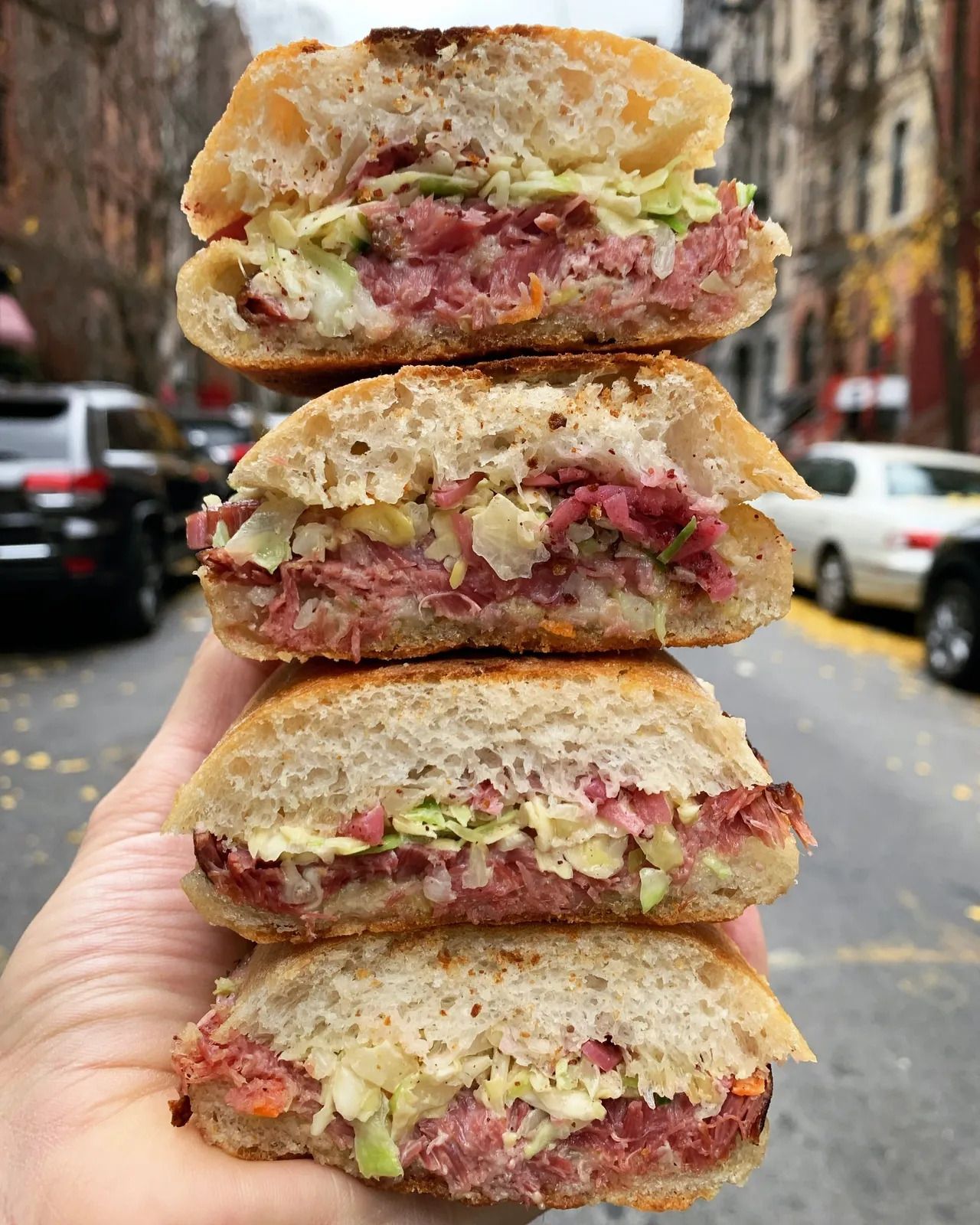 Best New York Sandwiches – Smoking Fox Foxface
Big things come in small packages. To be specific, 48 square feet of package is known as Foxface. This literal hole-in-the-wall on St Mark's Place continues to sling out an endlessly impressive rotating list of imaginative sandwiches that come out of the inspired mind of its owner, and sandwich savant, Sivan.
The opportunity to dine on sandwiches made from kangaroo one day, camel the next, and then brussels sprouts the day after, is reason enough to come back to Foxface on the reg. But it's their only permanent sandwich on the menu, the Smoking Fox, that takes out 3rd spot on our best New York sandwiches list.
The Smoking Fox has it all. Boneless pork rib that is smoked to a perfect rose color, then flash broiled so it is moist and juicy before laid on the bread. Pickled onions for the tang, a homemade spicy sauce (go medium or more!) for the heat, and a creamy coleslaw to soothe the tastebuds, all layered within a bread pressed to perfection. The southern BBQ vibes, combined with a New York twist, create one of the best-balanced, and best-tasting sandwiches we ate all year. Being listed in the top 25 sandwiches in the world by Timeout isn't a bad title to hold either.
2 – The Chinese Chili Beef Dip Sandwich @ Wildair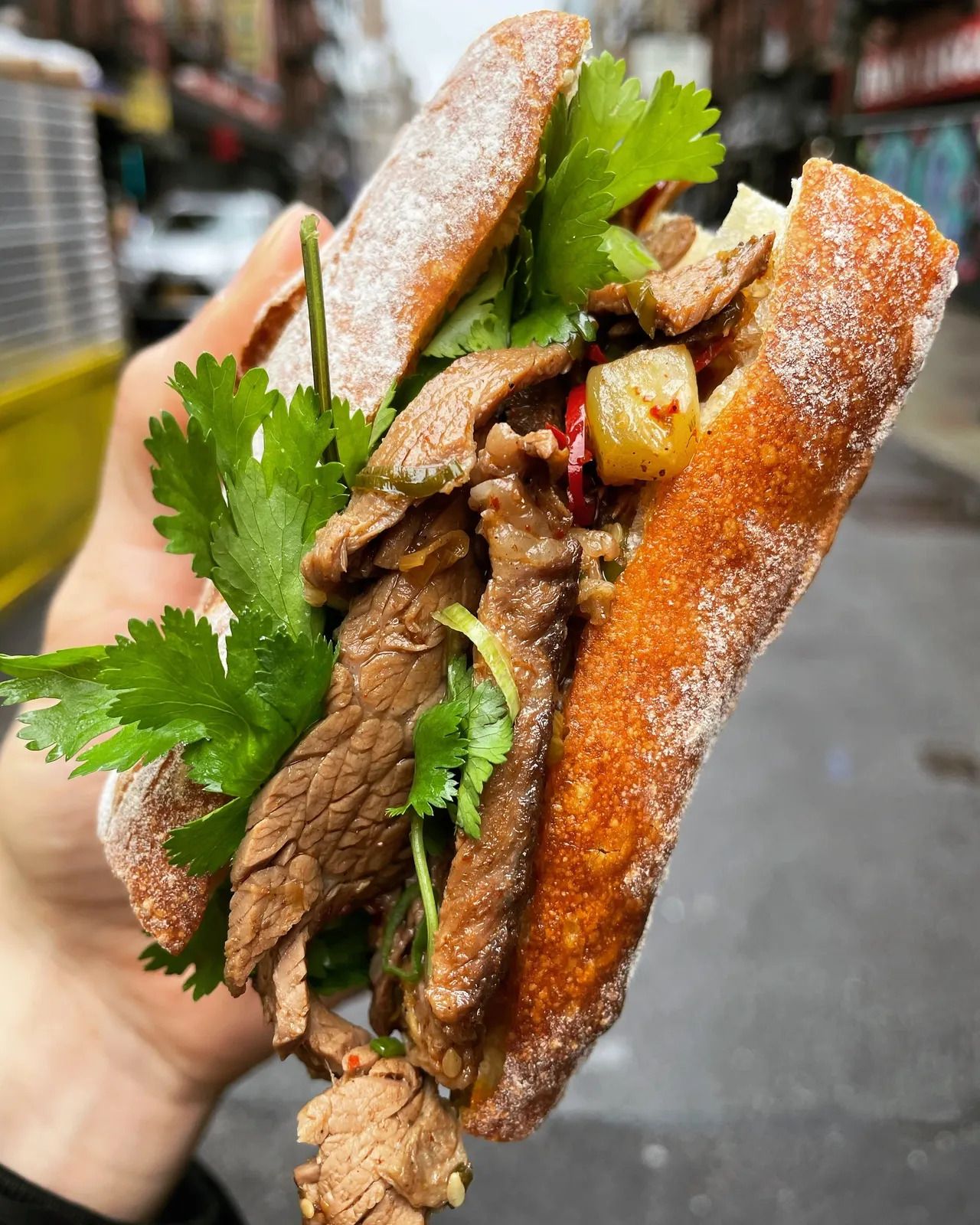 Best New York Sandwiches – Chinese Chili Beef Dip Sandwich Wildair
In one of the great dick teases of 2021, 2nd on our list of best New York sandwiches is no longer available. Sorry. But the Chinese Chili Beef Dip Sandwich from Wildair was just too good to leave off. We are here for a change.org petition to bring it back if you are!
When life gave Wildair lemon-flavored covid, they turned those citrus balls into arguably the best sandwich shop in NYC, where dishes like the bacon & egg (and pineapple?) sandwich, or the Chinese chili sanga, were crafted with the same extraordinary technique that made the restaurant a James Beard award nominee.
This crossover special sandwich between Wildair's and their neighbor Contra gave us a sandwich brimming with slow-cooked short ribs with a chili sesame oil that melted in your mouth and ran joyfully down your chin.
This meaty delight was served with preserved mustard greens, cilantro, and scallion, inside a soft doughy bread roll for a full flavor explosion. But then to just really and truly destroy any hope that the next meal you eat will be even close to satisfying you in the same way as this sandwich, Wildair offered a side of spicy beef jus to dip your sandwich in, and then inevitably drink, when you ran out of the last crumbs of this sensational sandwich. I'll stop now…
1- The Ham Panini @ Factory Tamal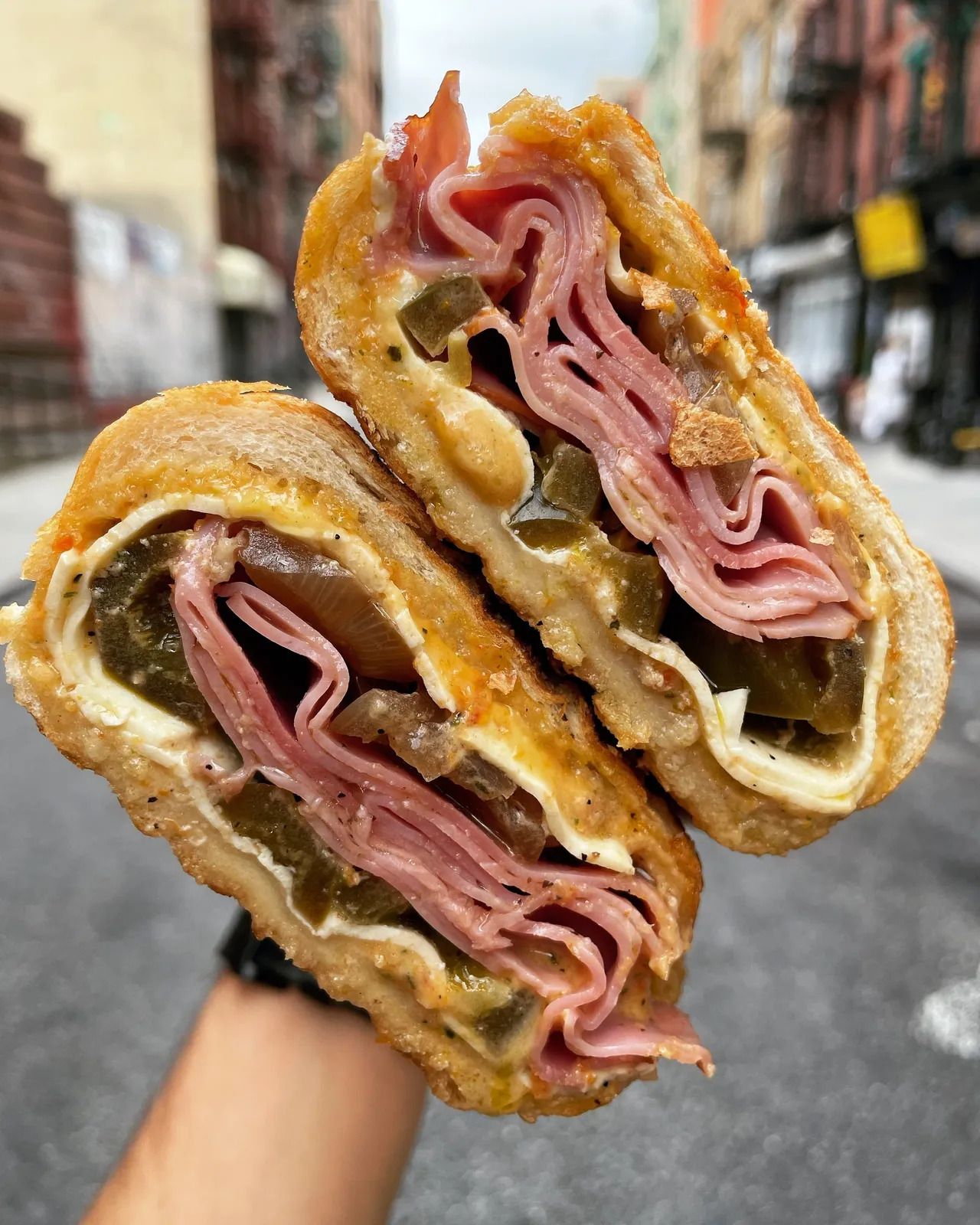 Best New York Sandwiches – ham panini Factory Tamal
Yes, the best New York sandwich we ate in 2021 comes from a tamale restaurant hidden in the bowels of the Lower East Side. A blink-and-you'll miss it at a restaurant. A 'hmmm, I'm not sure about this place' aesthetic destination whose menu covers the entire gamut of carbohydrate containers of food. And yet, hidden within that menu of confusing creations is a hidden gem, the ham panini, that stands out against everything else we ate in the sandwich capital of the world, New York City.
Perhaps the simplicity of the sandwich is what attracted us to it. That is one of the true joys of the 'sandwich' after all. Perhaps it's the fact it is located inside the delivery zone for your author. A clear bias. Or perhaps it is just because it tastes so fucking outrageously good. Because my goodness it has it all – the warm crunch of the toasted bread, the sweetness of those caramelized onions, the spice and tang of the pickled jalapeños, the mozzarella that has been melted just right, and the folds and folds of plain old ham.
That's it – five ingredients. No frills. No muss, no fuss. Simple household items (or easily accessible ones) that are put together in perfect harmony. A harmony so perfect in fact that it resulted in us putting that tune on loop at least once a week this year, and at times once a day when we needed that comfort food to shield us from the craziness of 2021.
So yes, the best New York Sandwich we ate all year, a ham panini comes from a tamale restaurant on the Lower East Side.