There's an unavoidable smorgasbord of sexual innuendo when you start talking about the best burgers in New York City. Describing those deliciously juicy patties, held between sumptuous buns, dripping with glorious sauces. Turned on yet?

And just like finding that special someone to, ummmm, share your Big Mac with, the list of best burgers in New York City offers a diversity of options that mirrors its people – from your old school spots to your shiny new playthings catching the eye. But all of them have one thing in common – they are fucking… delicious.
A tour we think you'll love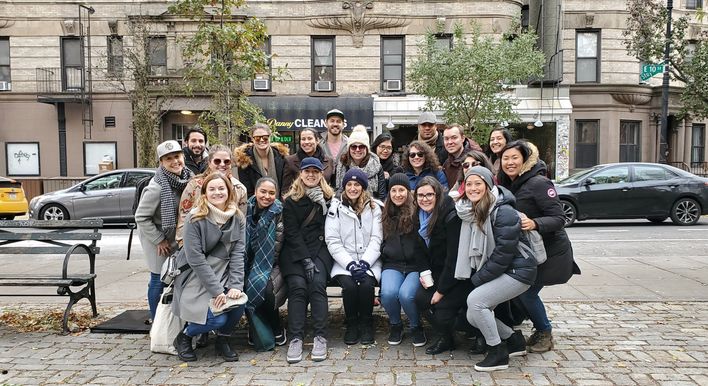 Private Tours
From $395
View tour
7th Street Burger – The Cheeseburger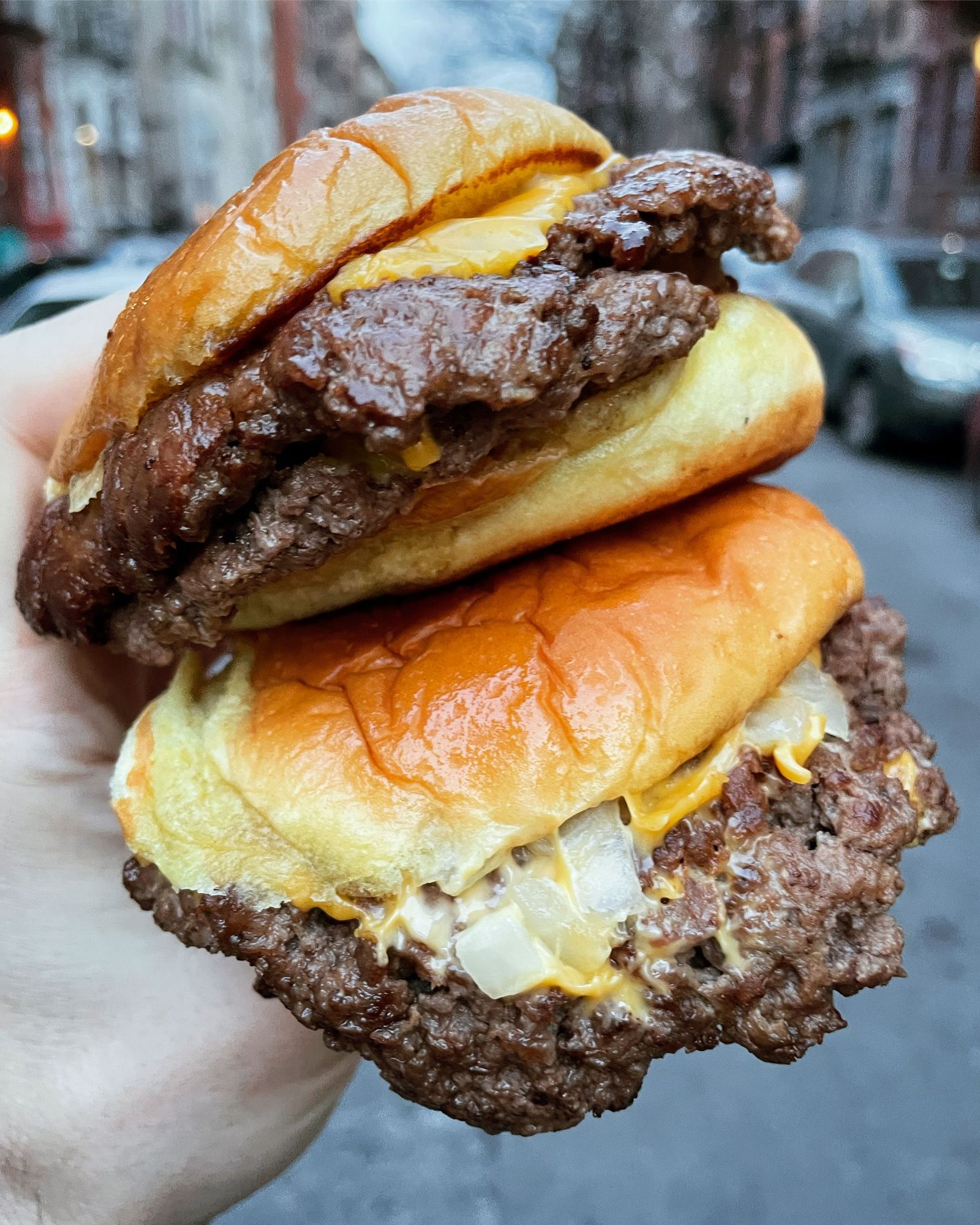 The smash burger revolution has taken over New York, but the team behind 7th Street Burger may have 'completed it'. Their burger is perfect. It's no wonder they nailed it given their menu only sells two things – smash burgers and fries – but the simple life is a good life, which is why eight locations have opened in under two years.
A simple thin beef patty is grilled alongside diced onion and American cheese to create the holy trinity of salt, acid and fat. A couple of pickles inject some tang into the burger, whilst a secret sauce so delicious it must surely contain illegal ingredients lifts this burger into another stratosphere. Holding it all together is a potato bun soft enough to pillow your fingers, but sturdy enough to soak up all the juices. It may just be the best burger in New York City.
Emily West Village – The Emmy Burger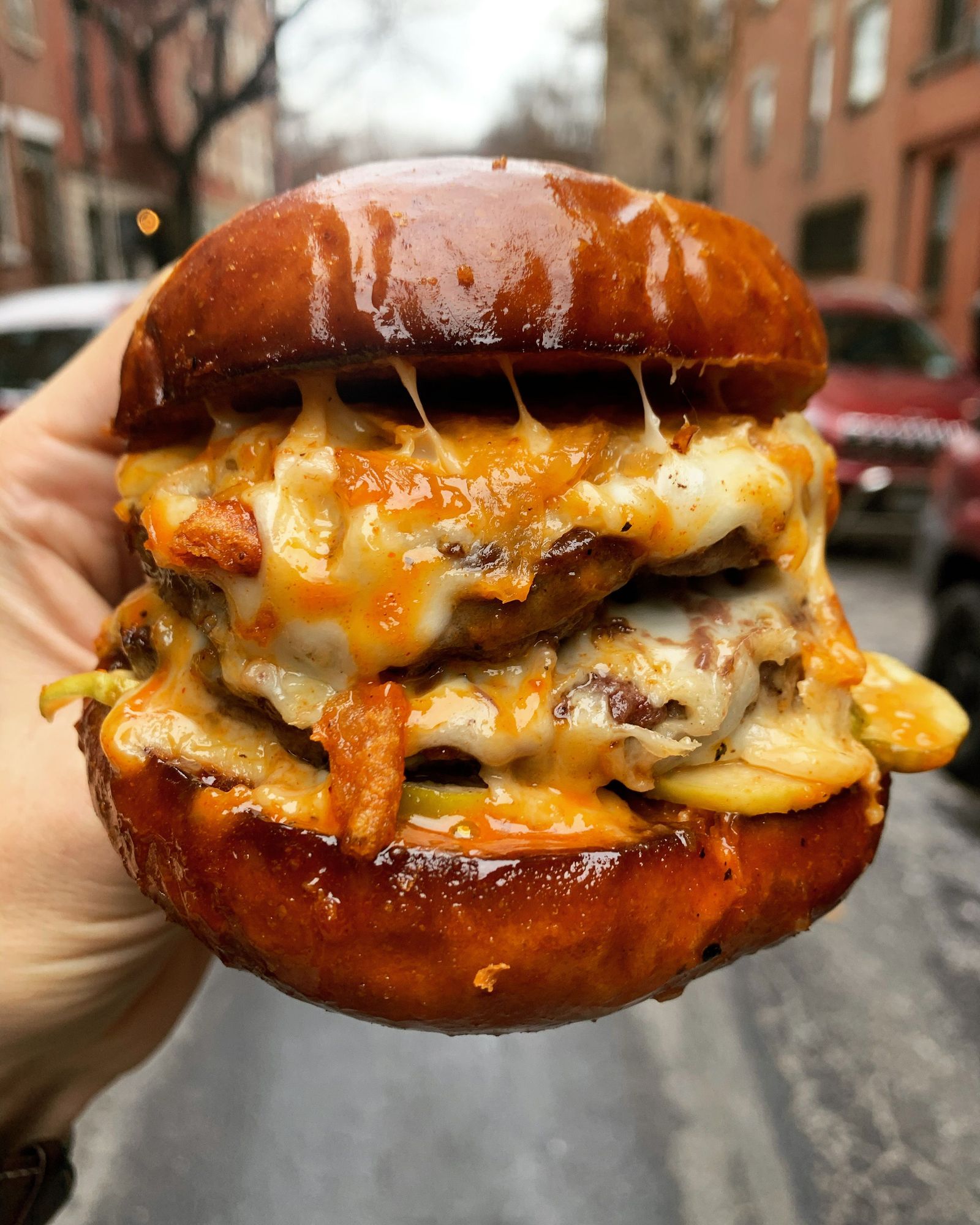 If you like your burgers thicc, then look no further than Emily. Rumor has it that she used to be a pizza girl, but then one day was introduced to a burger and she's never looked back. The match-maker was owner Matthew Hyland who was simply done eating his own pizza every night, so stepped up to the plate to create a burger, and knocked it out of the park first go.
In contrast to the current thin patty obsession, the Emmy Burger uses not one but two dry aged patties. Both are thick and juicy. Vermont cheddar is melted across both patties, oozing out the buns like holt magma, but it is the secret sauce that you'll really want to drip down your chin after you launch face first into the sandwich. Caramelized onions inject sweetness and acidity into the burger, while a pretzel bun keeps its form as everything gets dangerously close to wet.
Momofuku Ko – The Hamburger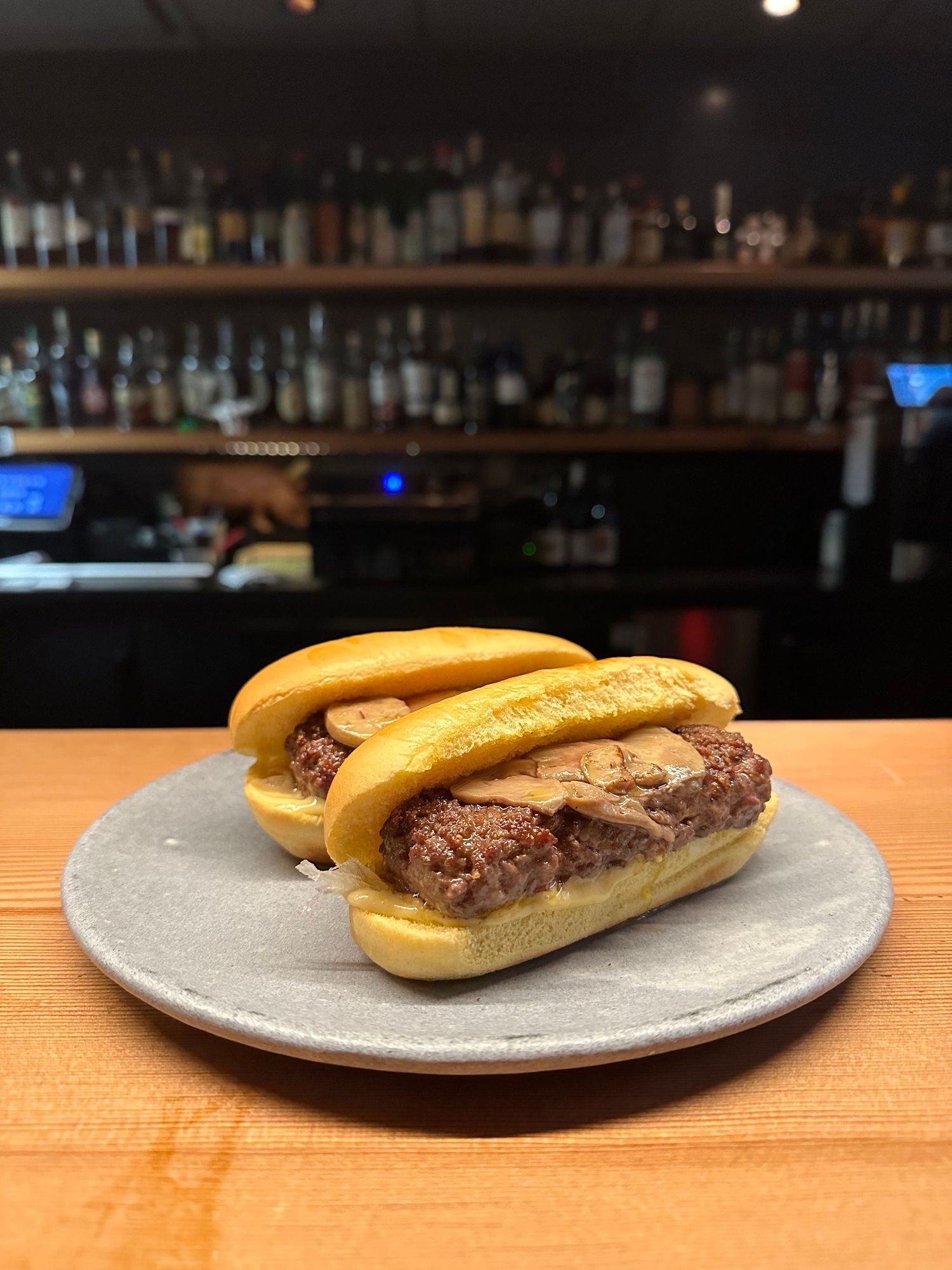 The first thing you notice when entering Momofuku Ko is that everything is just sexy. The lighting. The polished timber. The personal cutlery drawer that slides out from its camouflaged position under the bar. And then the burger comes out… and the pleat in your pants shifts involuntarily. It is pure sex on a plate.
Bucking the tradition of a circular bun, the Ko burger's rectangular shape is nothing short of phallic in appearance. Four healthy inches of golden yellow buns opened to an angle perfect for exposing a thick beef patty contoured to the bun itself. Layered across the top of that beefy goodness is the devilishly naughty foie gras, whilst below it is a bed of moisture formed by mustard mayonnaise which together create the perfect menage e trois for your mouth.
4 Charles Prime Rib – The Double Wagyu Cheeseburger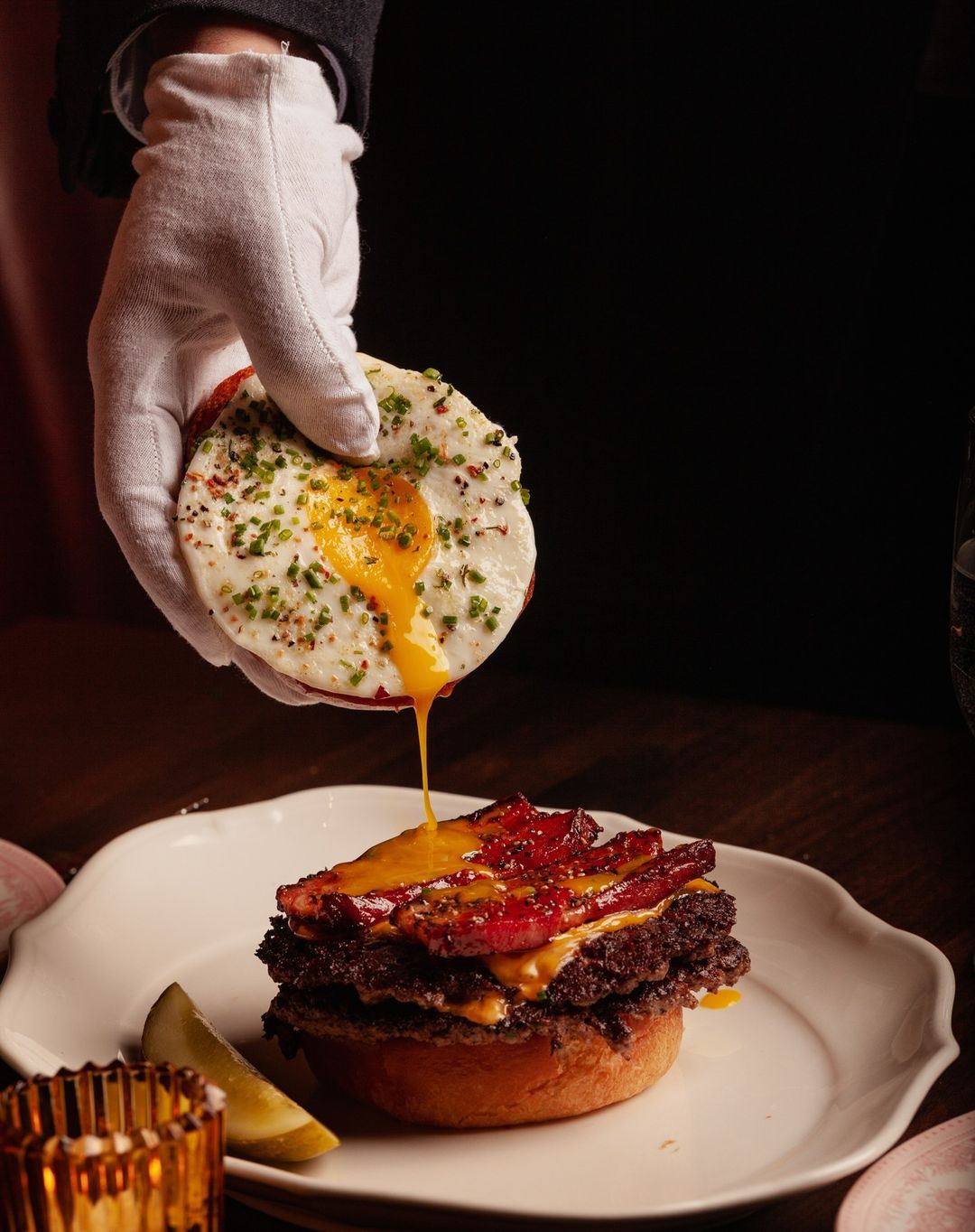 Let's be clear, the 4 Charles burger is not a cheap date. You will have to wine her, dine her, and get in line to even just find her available in the first place. Reservations are as rare as hen's teeth, and once you snag one, the burger costs $39 before you even add extras onto her body. With all the 'fixins' you're looking at a $60 burger.
However, if you can stomach the costs, there's another organ that will more thank you for ordering culinary delight. A double wagyu patty enjoys a passionate rendezvous with melted American cheese, causing moans to break out across the low lit 4 Charles dining room. The requisite pickles are coupled with dijonnaise to cut through the aforementioned elements, although these are drowned out by the bright yellow yolk of the farm egg you'll want to add to the burger. You're also given the option to add thick cut bacon, but honestly is it really even a choice? Add the bacon.
Pastis – Cheeseburger à l'Américaine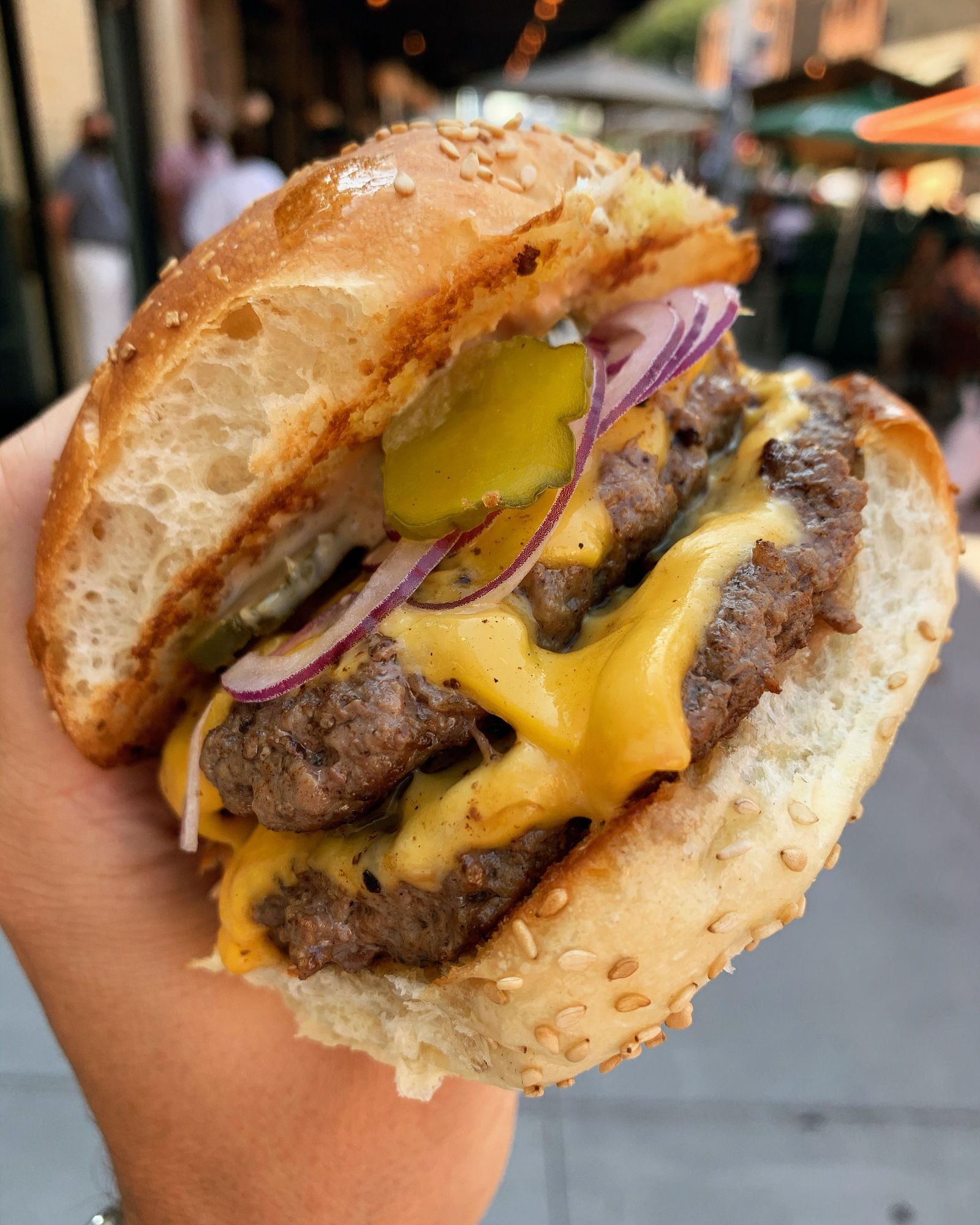 After a short hiatus (read: closing), Pastis reopened with a bang in 2019 delivering one of the City's best burgers along the way. It must be said though, for all the dad's out there, there is no irony lost that the cheeseburger packs a lot of meat in a famous restaurant located in the meat packing district.
The dad joke is the only one that can be leveled at the Pastis Burger, as it is a serious addition to the list of best burgers in New York. Two all-beef patties, special sauce, pickles, onion on a sesame seed bun. You know you hummed along as you read that. But this is way more elevated than the fast-food version. Plus, it just looks so much prettier too.
Gotham Burger Social Club – The Smashburger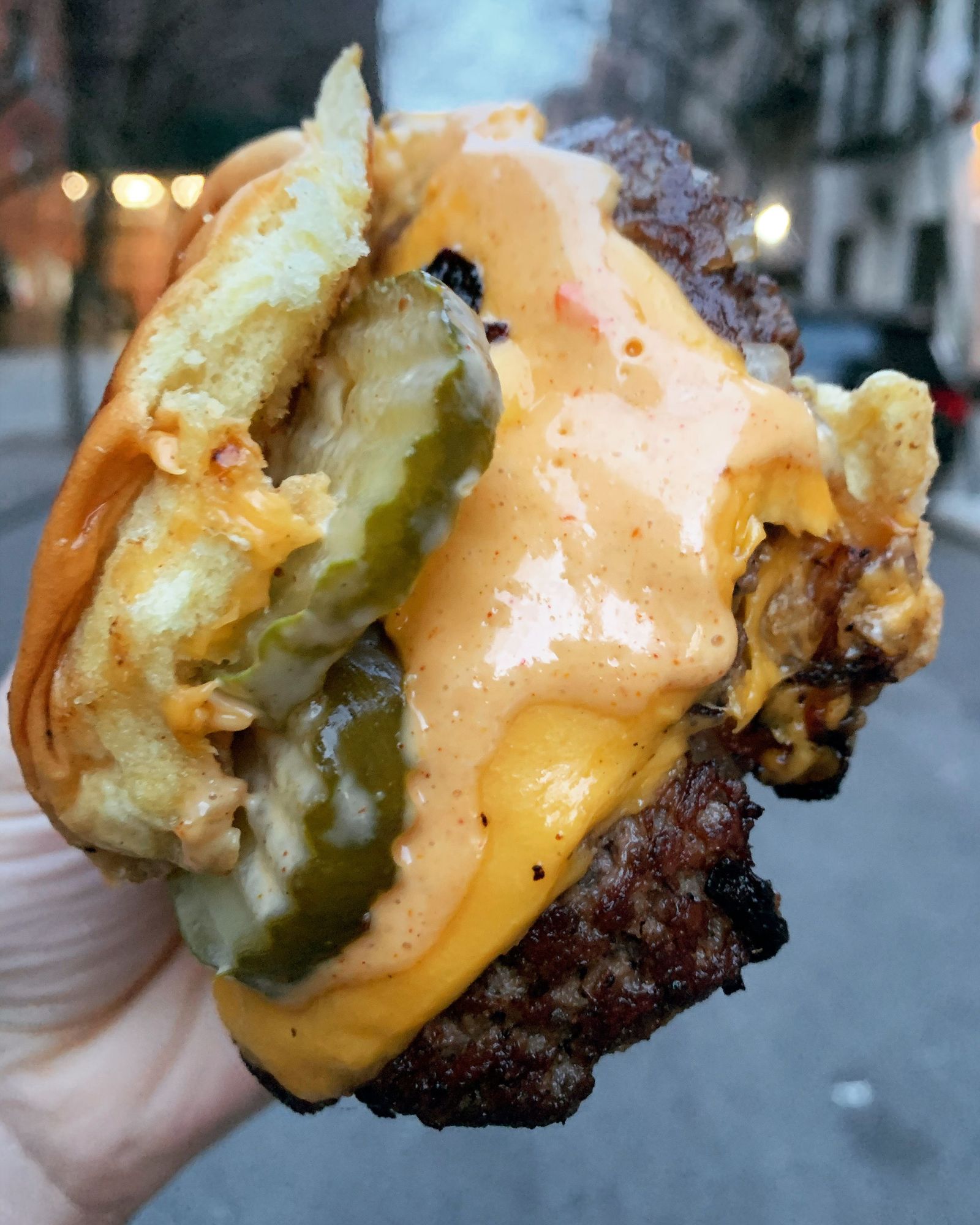 Before we all swiped left or right, we had to do the unimaginable thing of going to the club to speak to other humans face to face. It seems so retro now, but retro sells, which is exactly why the Gotham Burger Social Club is packed out like a rave every time you visit one of their pop-ups. Which must be exactly as chef Mike Puma likes it given he tossed in a career in finance to create a smash burger empire.
Like all great smash burgers, the thinner patty means it is crispy on the outside while still moist in the middle. American cheese begins the drip down your hands, followed in quick succession by ketchup and mustard. You can taste the memories of burgers of yesteryear as you lick them all off your fingers. Pickles, onions and golden buns of course finish off the burger, right before you finish yourself off…. with a second.
Red Hook Tavern – The Dry Aged Burger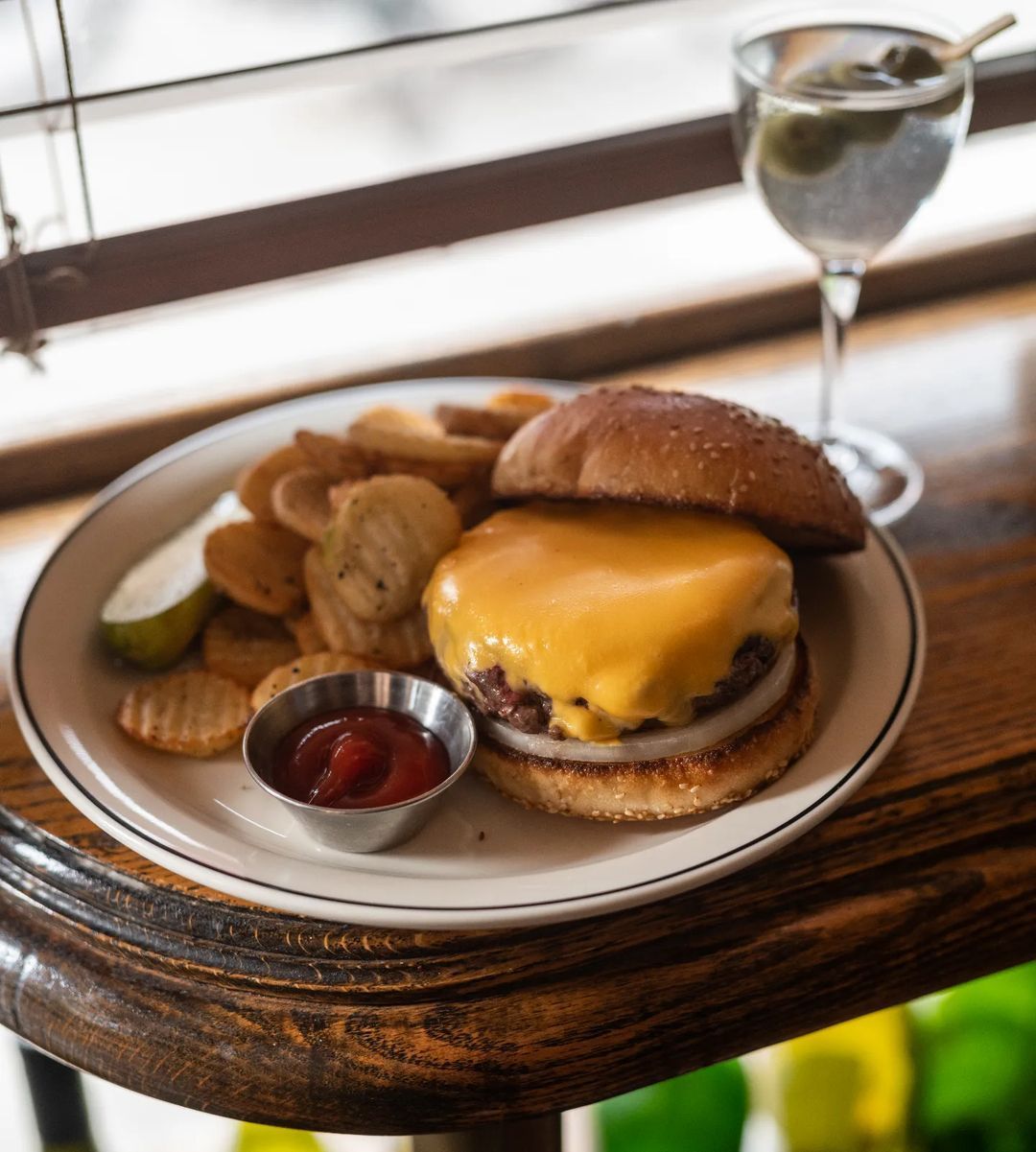 The difficulty of getting to Red Hook is both part of its charm and part of its curse. Like a long-distance relationship, the moments together are pure ecstasy despite the logistics of forming those moments. Once you've navigated your way to this Brooklyn outpost, settling up at the bar at Red Hook Tavern becomes one of those joyful moments when the dry aged burger arrives at your stool.
The burger keeps it simple with no bells and whistles. A heavy single patty is cooked to absolute perfection. It sits atop a single slice of white onion and below melted cheese that clings to the patty like that long distance lover approaching the inevitable farewell. Around all three is a buttery hard roll that you will leave print marks into as you bring it back and forward to your mouth with increasing speed once the taste takes over your buds.
Fairfax – The Burger [from Bar Sardine]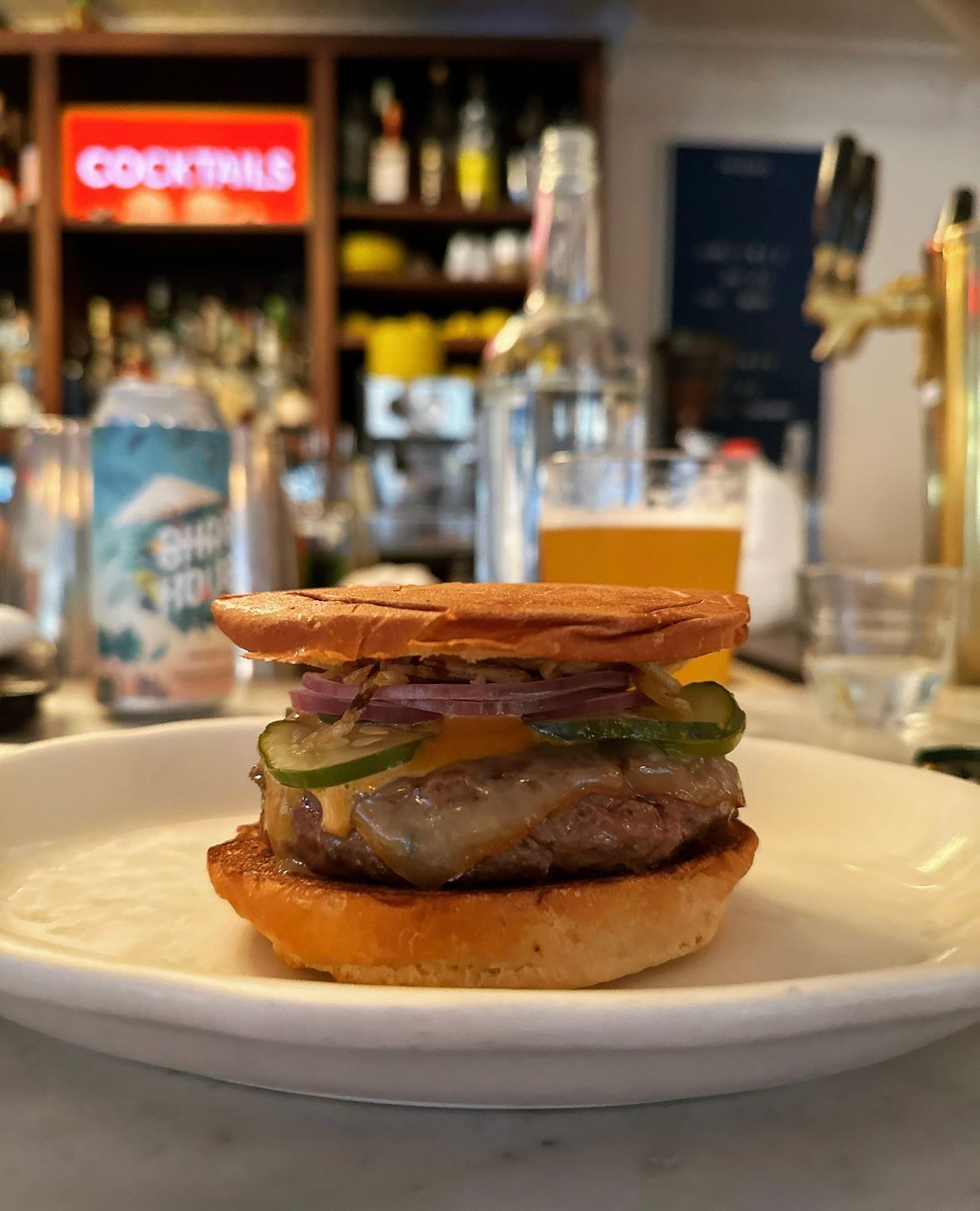 There's something about the girl next door that just pulls at the heart strings. You can't help it. You played ball together. Trick or treated. Had that one moment… so it's no wonder that you hold her up on a pedestal. For Fairfax, that girl was the burger at Bar Sardine, and when her family decided to move away (i.e. close) Fairfax did the only sensible thing an unrequited lover could do – marry her into the family – which is why it now features on their menu.
The Burger from Bar Sardine stands out from the others on this list of best burgers in New York for many reasons. First the burger uses thin, crispy flat buns to hold everything together. But even though it clearly skipped squats day, it makes up for the lack of breaded carbs by adding shoestring fries inside the burger. It's a great textural addition, let alone a flavor one. Red onions, pickles, and cheese trickle over a single patty, and the first bite immediately makes you understand why Fairfax couldn't let that girl walk away.
Au Cheval – The Double Cheeseburger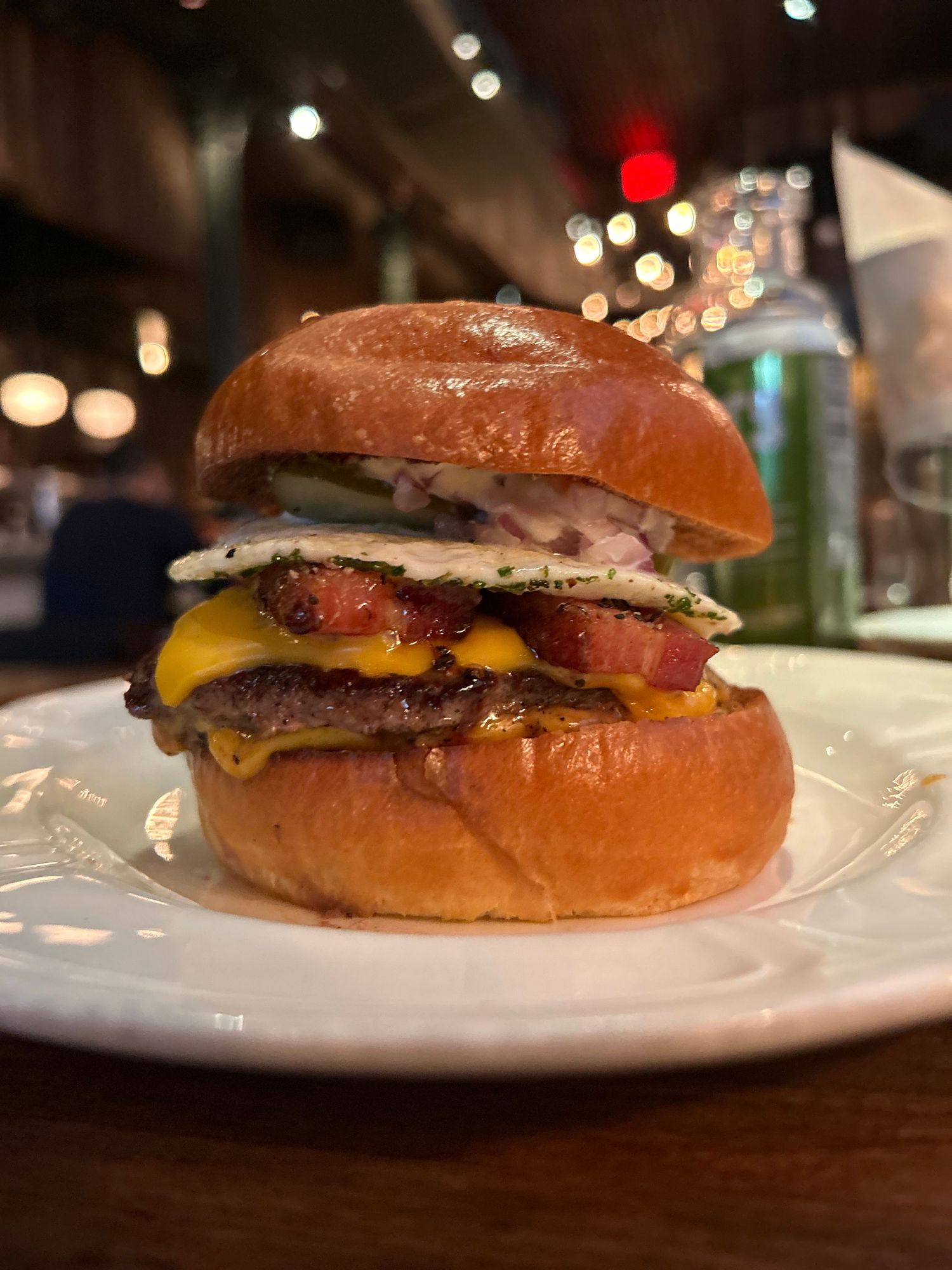 From the same fine folks that brought you 4 Charles Prime Rib, comes the slightly more casual(ish) Au Cheval. Au Cheval is the more approachable one of the two locations, like the friend of the supermodel, even if that friend is wildly accomplished in its own right, having been a force de jour in Chicago for years before arriving in NYC in 2019.
The burger at Au Cheval has a lot of similarities to 4 Charles – they're almost identical. Double beef patty, American Cheddar, pickles, onions, dijonnaise, plus a choice to add egg and bacon. The big difference though is the price – around $20 cheaper. And as the great poet Mungo Jerry once said, if her daddy's rich take her out for a meal and if her daddy's poor just a do what you feel. So feel around those buns and place your hand on a beer or two with that extra cash in your pocket.
Minetta Tavern – The Minetta Burger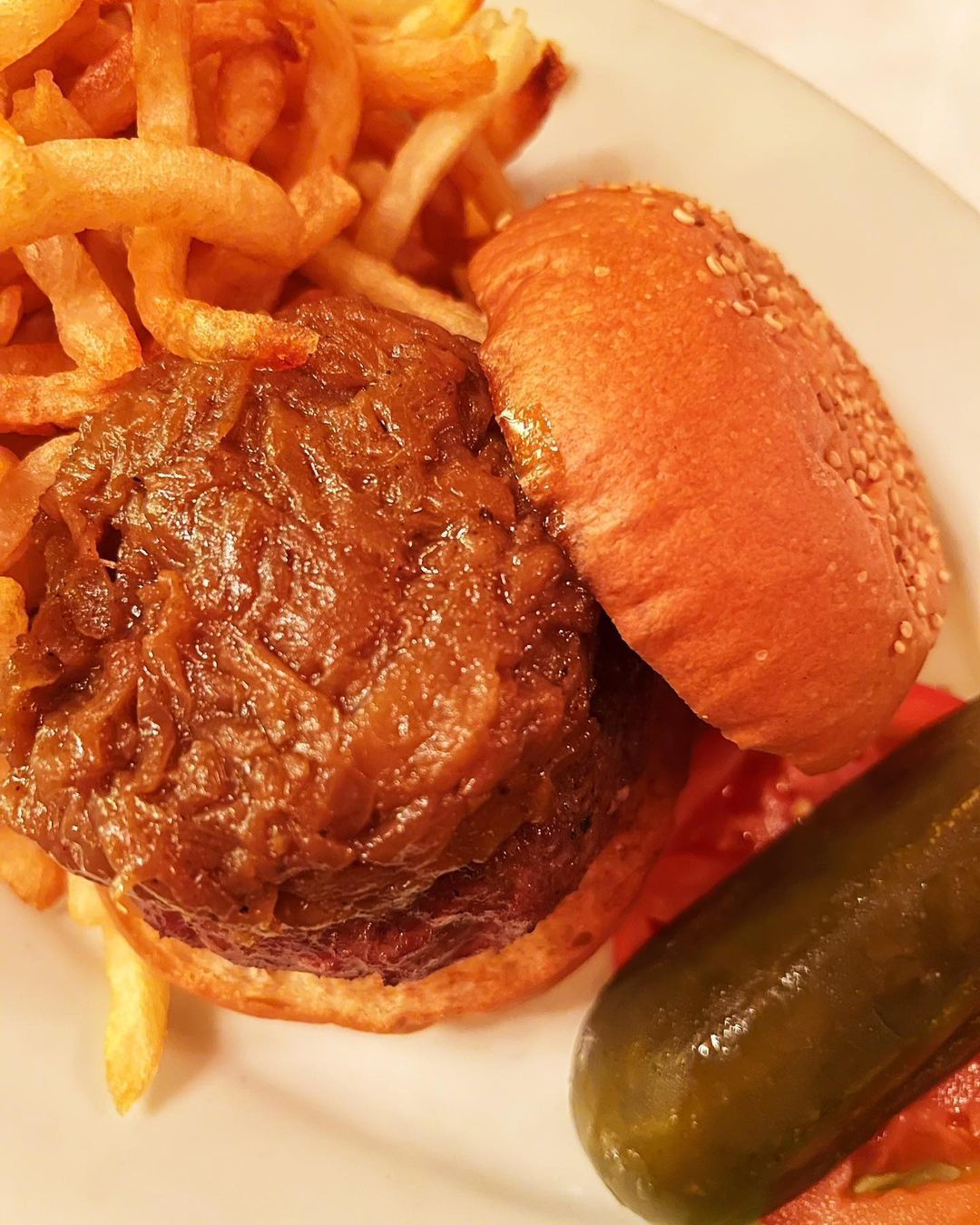 Some of us prefer them a little older, which is why the MILF – Meat I'd Love to Finish – of the New York burger scene is Minetta Tavern. Opened in 1937, this Greenwich Village institution has been making people week at the knees for 85 years by flashing those pink bits… of the patty made up of short rib, skirt, brisket and dry-aged ribeye.
A juicy patty begs for its outer brown skirt to be hitched up so as to reveal the wonderous pink bits within. A perfect cook on the patty allows for alluring funk to permeate from the oozing juices, which counters with the sweet caramelization of the onions splayed wide across the buns. You'll be begging for more as you eat your way this addition to the best burgers in New York.