Finding the best Italian sandwich in New York is easy. Every single New Yorker will tell you exactly where it is, because, well every single New Yorker thinks they know knows the correct spot. The confidence in which they regale you of the best Italian sandwich is unmatched, even if they are unaware of simple facts about the sandwich, like what should go on it or where it originates from. Spoiler alert – Portland Maine. Seriously.
A tour we think you'll love
Fun facts aside, confidence does not equate to correctness, as folks tend to mistake the most obvious choices for the best Italian sandwiches in New York City. Fortunately, we are here to wade through the bullshit and provide the definitive list of the best New York Italian sandwiches.
Regina's Grocery – The Uncle Jimmy
When you open a shop dedicated to your mother, and name sandwiches after family members, you put a love and effort into your Italian sandwiches that elevates them above the norm. Regina's Grocery owner Roman has done just that, which is why the best of ingredients are crammed inside each and every sandwich sold at their outposts in the Lower East Side sandwich shop, plus their Nolita and now Williamsburg locations too.
Uncle Jimmy (sandwich) is the family member you really want to introduce yourself to. Crammed with all of the meats – prosciutto, hot sopressata and smoked ham – alongside fresh mozzarella, arugula, EVOO, balsamic and roasted reds on stirato bread, this sandwich is balanced, bold, and God damn delicious. The addition of Regina's hot pepper spread makes this sandwich extra special, but also leaves us wondering about Uncle Jim's fiery temper… Howyadoin, Jimmy?
Alidoro – The Fratelli
From their original 1980's shop in Soho, to four more locations across Manhattan, Alidoro are taking over New York. The fact that they partnered with Katz Deli and the MTA (the New York subway) to create a wild sandwich collab, shows you just how iconic Alidoro's sandwiches have become.
When you get yourself to one of their locations (run, don't walk), zero in on their Fratelli sandwich- the crown jewel of Alidoro's hot sandwich menu. On the Fratelli you will find porchetta served warm with fresh mozzarella, hot spread, sweet roasted peppers, arugula and with basil pesto on it toasted on sfiltano bread. Warm and crunchy where it needs to be, cool and soft where it should be, and damn tasty all-round. Available everywhere except the original Soho location. But bonus advice – if you find yourself at the OG Soho spot then get the Pinocchio sandwich. No lies.
Sal, Kris and Charlie's – The Bomb
Hidden away from the hustle and bussle of Manhattan, is this Astoria deli that sells possibly the biggest sandwich in all of New York. Aptly known as 'The Bomb', the ingredients inside the huge hero feel like they are abiout to explode out of the bread at any second thanks to how much of them are layered inside.
It might actually be easier to list what isn't on this ingredient list rather than what is, but all of the meats, all of the cheeses and all of the veggies can be found in The Bomb. This one is not for the feighnt hearted, or the small stomached.
Anthony & Sons Panini Shoppe – The Mario Special
Yes, a panini is an Italian sandwich. Yes, the panini press was invented by Thomas Edison. And yes Anthony & Sons create some of the best versions of this Italian sandwich in New York. But be warned, they ain't playing here, because allllll of their sandwiches are legit.
The best of the offerings at this East Williamsburg location is the Mario Special. The mouthwatering combination of chicken cutlet, bacon and American cheese is as delicious for you as it is bad. But who cares when it's that good. Throw in the ultimate complementor (avocado), the 'healthy stuff' – spinach and red onions – and a rich chipotle mayo between perfectly pressed bread, and you've got yourself a sandwich you won't be 'forgettabout(ing)' anytime soon. Just don't ask for any substitutions. You've been warned.
All'Antico Vinaio – La Summer
A legendary Florence sandwich shop that started as a hole-in-the-wall in 1991and became a global empire when Al Antico Vinaio opened its doors in New York in 2021. Although they must have been pretty confident that would happen given the line outside of their summer pop-up in New York in 2019. Yes, people waited hours to eat an Italian Sandwich. Guilty.
The signature of Al Antico's sandwiches is their bread, a classic Tuscan flatbread called schiacciata which looks like a thinner focaccia but remains soft and salty in just the right places. Inside those fluffy delights are a range of creamy cheeses and cold cuts. Our pick of the bunch is the La Summer, which is aptly named as you will feel transported to that sunny season when you bite in. A classically simple of ingredients list consisting of prosciutto, mozzarella, tomatoes and basil is close to perfection, even if it does miss one thing – an accompanying Aperol Spritz. Just thank your lucky stars you no longer have to fly across the Atlantic to eat it.
Parisi Bakery & Deli – The Dennis
We dare you to try and eat the whole thing in one sitting. We also advise you have 911 on speed dial if you do. This thing is a monster. Parisi Deli has been open in Nolita since 1903 and they've been satisfying customers for just about as long with their sandwich called The Dennis.
This terrifying (in a good way!) monster has everything that your Nonna made you. The only difference is that Parisi has engulfed them in homemade bread for easier access to your mouth. Smart by them. Layers of fried cutlet and prosciutto overwhelm your eyes upon first view, but the mutz and tomatoes balance out their wonderful salt and crust. Balsamic and basil spread are close to the highlight of the whole sandwich experience, until you see the price – you get it all for just $12.50. Bello.
Milano Market Westside – The Prosciutto Special
Like Michelangelo crafted The David, Milano Market has sculptured sandwiches that need to be seen up close and in person. Instagram pictures simply don't do these masterpieces justice. Plus, its almost impossible to taste them through your iphone screen, even if some of us have tried…
The best example of these masterpieces is the prosciutto special, which features prosciutto di Parma, burrata, fig jam, shaved parmigiano, EVOO, Balsamic glaze and fresh basil. Every flavor just hits. The saltiness of that meat, the sweetness of the jam, the richness of the cheese and the freshness of the basil. When they mount both halves on top of each other for you, you'll be within your rights to sell tickets to view it just as they do for David.
Joey Roses – The Local
A comedian opens a sandwich shop… What sounds like the opening line of a 'bit' became a reality in 2021 when Joe DeRosa launched his self-titled dive bar – Joey Roses – and made a menu of eight sandwiches the centerpiece of the venue. The fact that all eight cost a meagre $10 is definitely no joke. The best of the 'Hard Eight' is unsurprisingly named The Local, given the vibe that Joey Roses creates for its Lower East Side patrons.
Doubling up on turkey and roast beef, and adding white American gives this sandwich a classic American-Italian vibe. Adding tomato, onion and hot cherries spices up the veggie element of this sub, whilst mayo, S&P and crucially oregano, bring the full balance to the sandwich. It's a banger that will get your taste-buds talking. Now they just need to listen when you desperately wanna debate hotdogs (aka sandwiches) with them… IYKYN.
Faicco's Italian Specialties – The Italian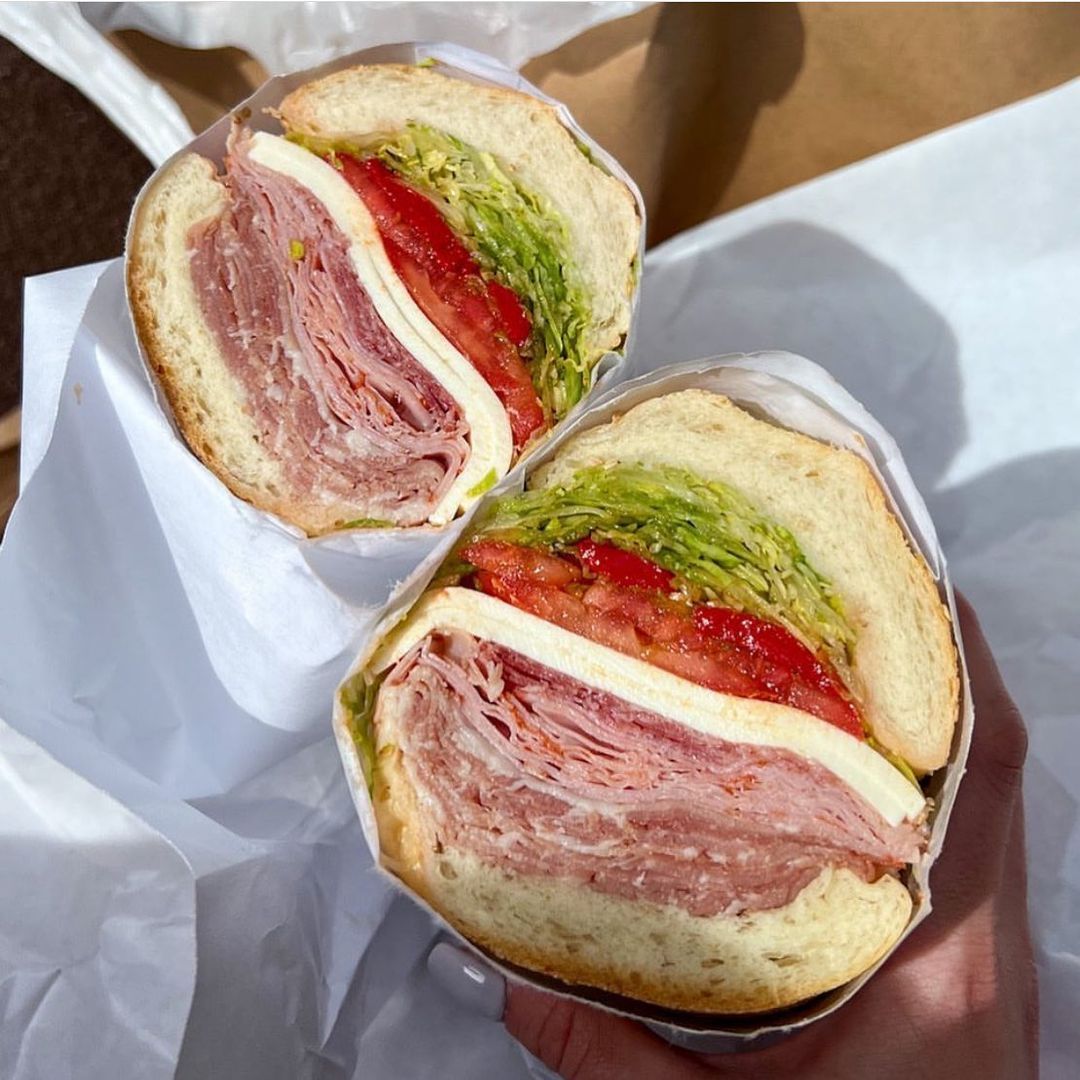 You can't keep Faicco's off a list of the best Italian sandwiches in New York. It is the OG Italian Sandwich spot in New York City, having been serving sandwiches here since 1900 when they first opened their doors. Placing this iconic sandwich shop this far down the list of best sandwiches is strategic though, as you'll be spending a lot more time waiting to get a sandwich from this deli than you will need to read to this point. So, consider this a test and congrats for passing (if you got this far).
That said, your memory of frustratingly slow steps up to the counter melts away faster than the thinly sliced prosciutto, ham and capicola in their classic Italian sandwich when it lands on your tongue. Fresh mozzarella that you can imagine every person behind the counter making by hand shields the meats from juicy tomatoes, roasted peppers and lettuce. One of the largest hoagies you've seen holds them all together as you hand over your $25 for this delight, but fortunately there is more than enough sandwich to share between two.
Napoli Bakery – The Moderno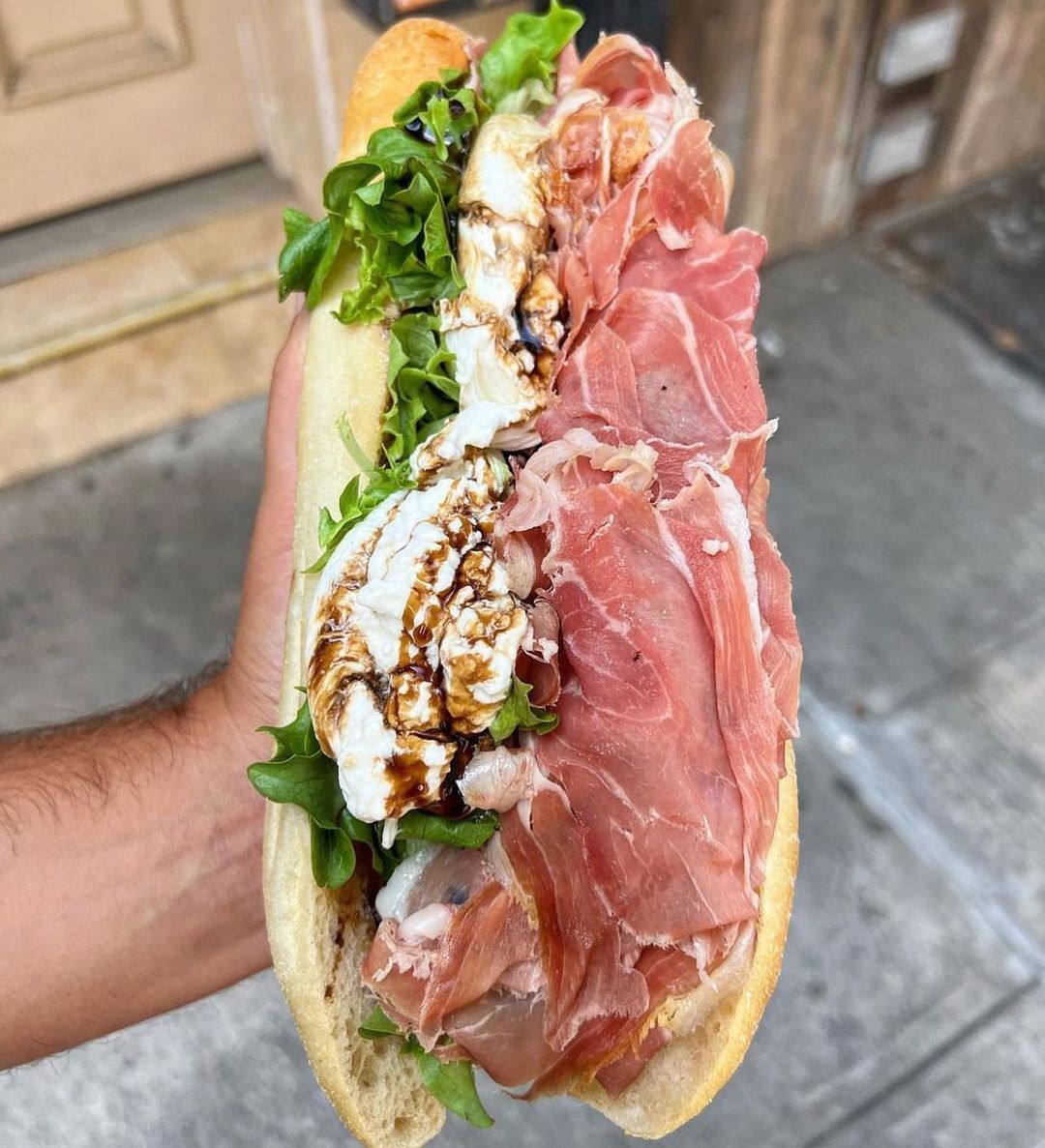 New Yorkers are, sadly, no strangers to dealing with all-encompassing disasters and finding a way to overcome them and move on stronger. So when the most recent of those disasters – Covid – hit this city, the well-practiced grit and determination of our community was on show again, particularly in the food and beverage world.
In the case of Napoli Bakery, that meant turning a decades old baking house into a purveyor of delicious sandwiches. And when we all needed a win back in 2020, adding a new Italian sandwich shop to East Williamsburg was one we all took with a smile. There's a lot to choose here from, especially as Napoli realizes the bread is as an integral ingredient as any other in the dish. But look no further than the Moderno, with prosciutto, truffle burrata, fig jam, arugula and balsamic.
Bonus: Fiore's House of Quality
We understand this is a list of the best Italian sandwiches in New York. We also understand New Jersey is not New York. We really understand this. But, if can drag yourself from the greatest city on earth and head across the river to the greatest dick-tease on earth (aka Hoboken), then you'll get to enjoy one of the best Italian sandwiches on earth at the iconic Fiore's.
While it's not exactly the Italian sandwich you're thinking about when you read a list of the City's best, the Thursday AND Saturday special – roast beef with gravy and mozzarella – is technically a sandwich served at an Italian Deli, and it is EXCEPTIONAL. So, it makes the list of best Italian sandwiches in New York and you can just deal with it