The best pastrami sandwiches in New York are as iconic as the Statue of Liberty or Empire State Building. But, whilst some pastrami sandwiches stack their meat as high as those famous monuments, the best one's balance that deliciously fatty and smoky meat with all its other ingredients.
A tour we think you'll love
Which is why Katz Deli is NOT the best pastrami sandwich in New York City. **Ducks for cover**.
We'll explain why below, but before then, here is a list of the best New York sandwiches with pastrami in them, not just another tired list of pastrami on rye sandwiches in New York City. Because to be honest, bad bread and mustard alone do not make for a great New York pastrami sandwich.
Frankel's Delicatessen & Appetizing Store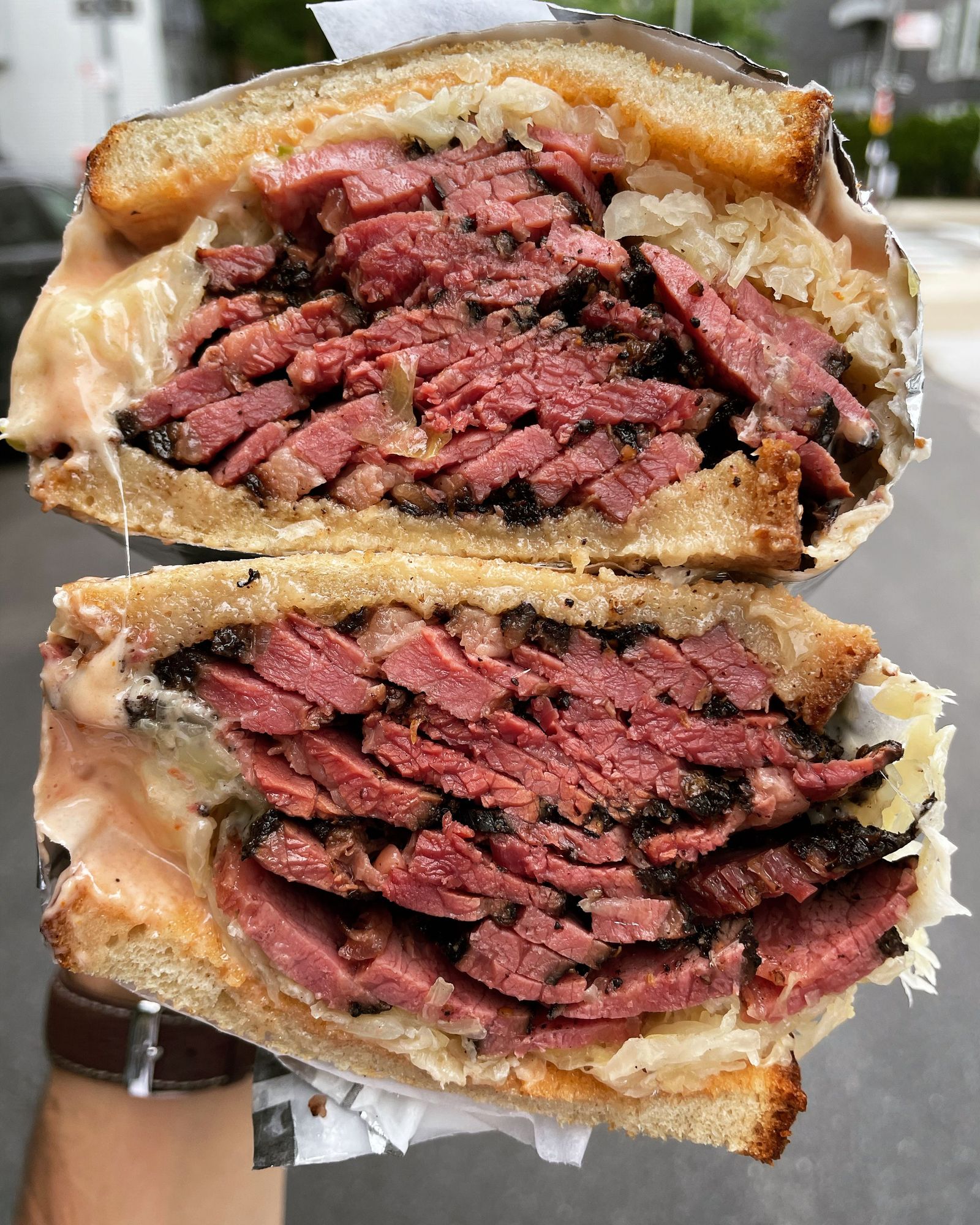 Frankel's quite simply makes the best pastrami reuben in New York City. A corner deli in Greenpoint, Brooklyn that opened in 2016, Frankel's takes its inspo from legends of the game like Barney Greengrass and Zabar's. And given the taste of the sandwiches they are slinging across the counter, Frankel's look set to be in the NYC just as long as its predecessors.
That blackened pastrami crust that rubs against your teeth as you take that first bite would be more than enough to convince you to take the next. But then your tastebuds get the privilege of being beset by smoke, salt and fat all at the same time, at which point you'll be into bite three before your brain even registers what's happening. The additions of tangy sauerkraut, gooey swiss cheese and rich Russian dressing on toasted rye are the cherries on top of this pastrami cake.
Hometown BBQ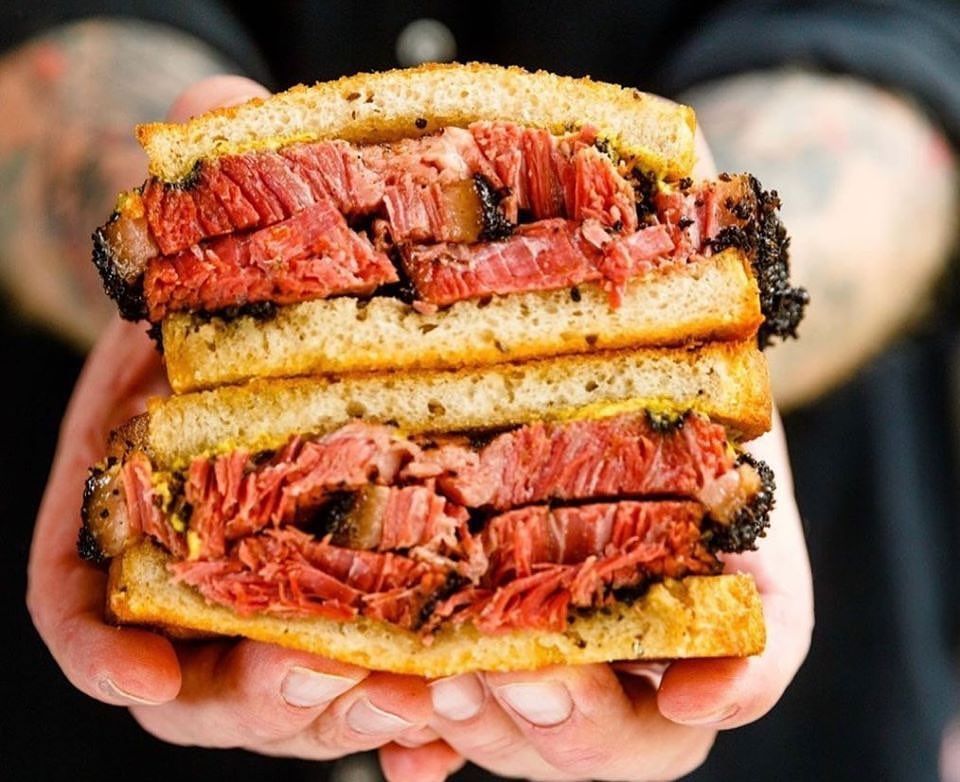 Throwing it back to the traditional New York version – 'strami, rye and mustard – but bringing a Southern spin to the cooking, Hometown BBQ hits it out of the park with their pastrami sandwich. Using only wood to cook their meats, its easy to forget you're on the shores of Brooklyn and not in the low country of Texas when you enjoy this sandwich.
Thicker than your usual slices of pastrami lay in perfect symmetry across the golden-brown rye bread like edible terracotta warriors in this sandwich. The toasted bread adds some much-needed structure to the sandwich as without it you might forget you need teeth to eat this pastrami sandwich that otherwise melts in your mouth. A blast of heat from the confident amount of mustard on this sandwich rounds it out perfectly.
David's Brisket House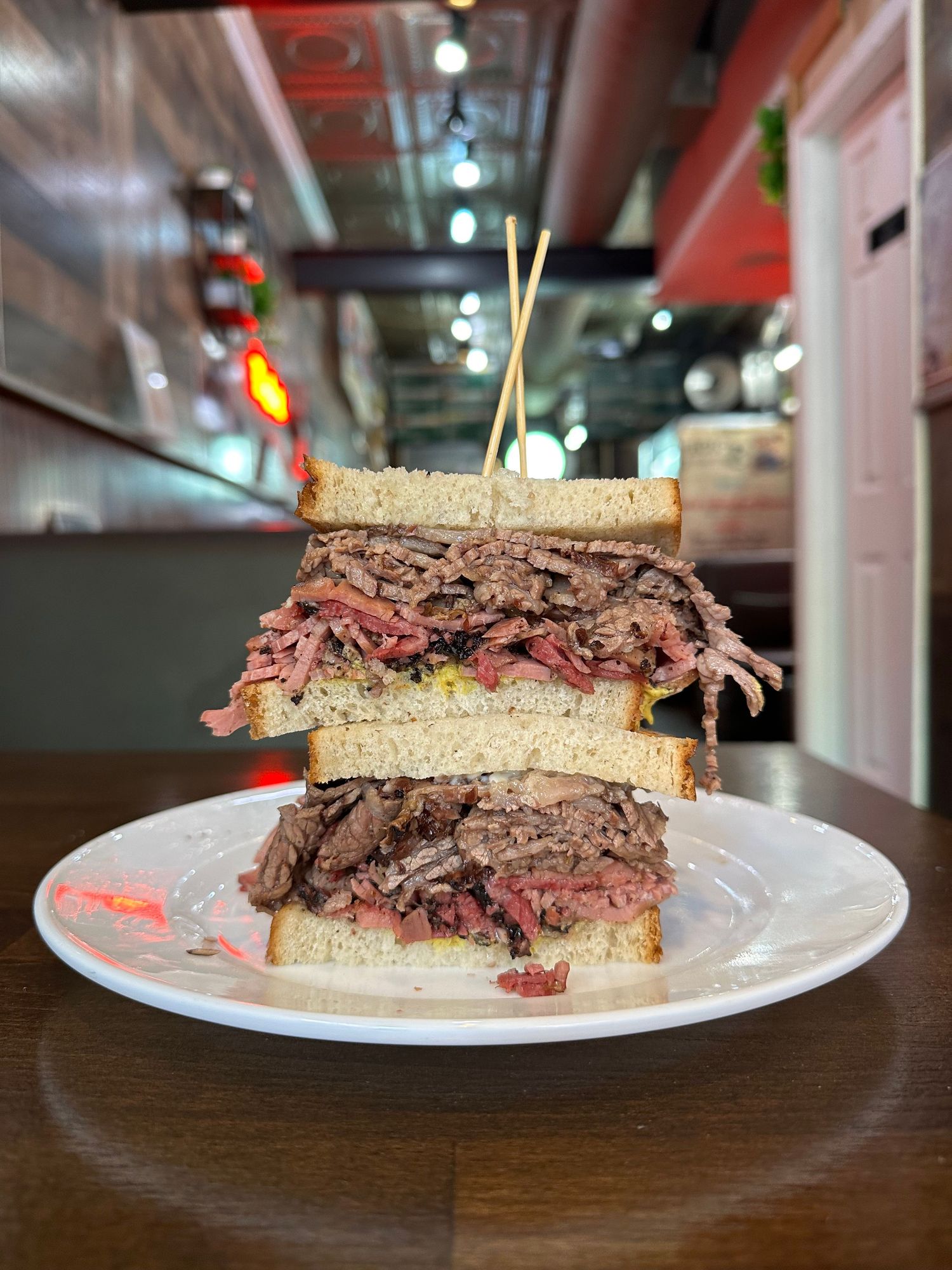 Tucked away in a non-descript shop in Bed-Stuy, Brooklyn, David's Brisket House serves up some of the best brisket in the five boroughs. And luckily nothing goes as good with one meat, as another meat, particularly pastrami. Which is why at David's Brisket House you can get both on the same sandwich.
To the untrained eye, brisket and pastrami are like the Hemsworth Brothers – indistinguishable hunks of delicious meat. But to those who pay close attention to what's entering their mouths, it's easy to pick out Thor over Katnis' boyfriend. In New York, we only deal with heroes, which is why we are a pastrami city. However, if you can stomach both meats, then David's phenomenal pastrami and brisket, with a side of dripping jus, is a combo that not even Thanos can stand in the way of.
Edith's Sandwich Counter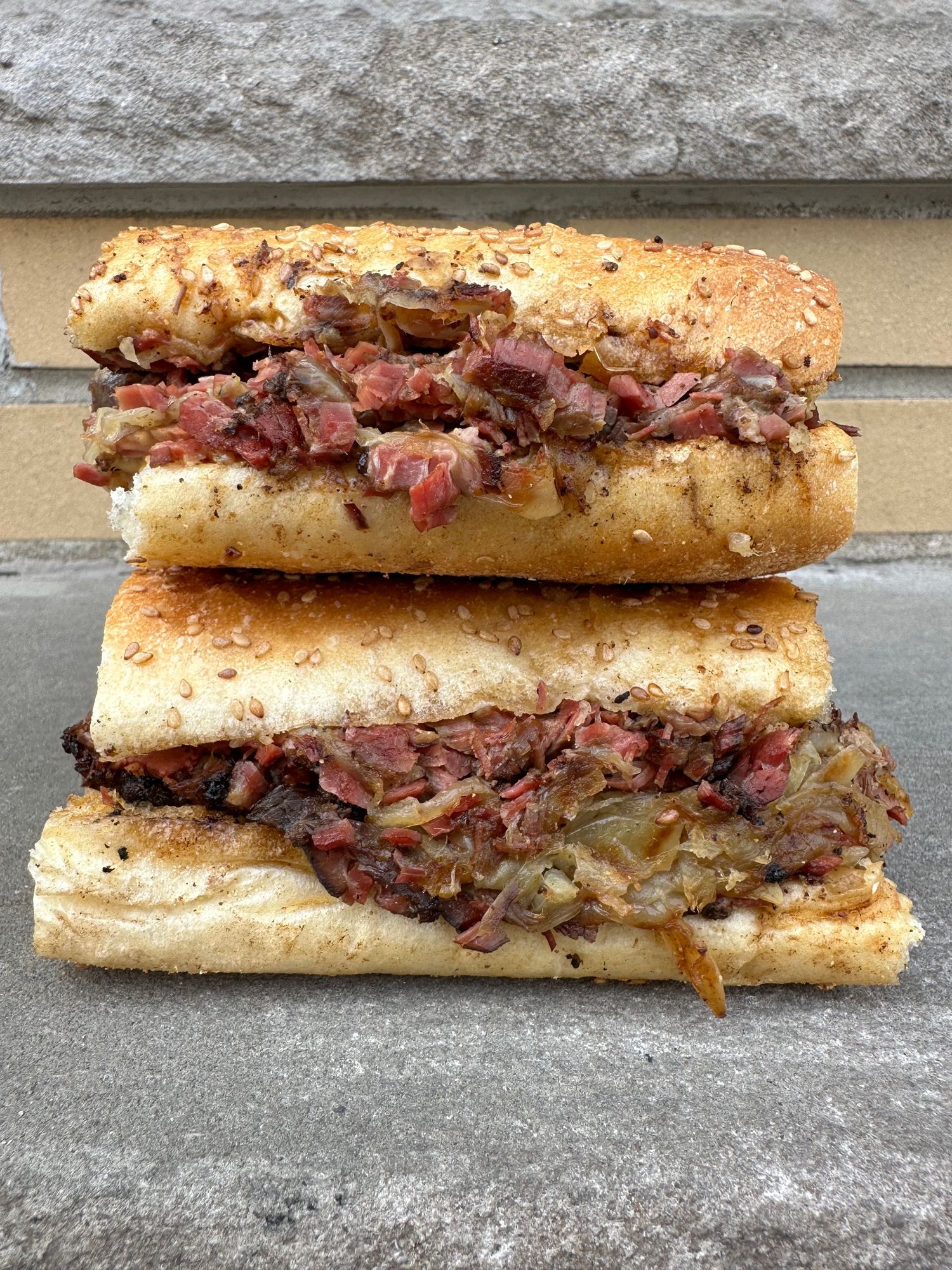 Who said pastrami had to be limited to rye as a deliver mechanism? The team at Edith's certainly don't think so, which is why they are spinning classic Jewish dishes into modern sandwich masterpieces and taking over East Williamsburg in the process.
What originally started as a pop-up bagel shop inside Paulie Gee's pizzeria, Edith's is now serving pastrami classics – the reuben, hot pastrami on rye – alongside some inventive (and at times controversial) sandwiches like their pastrami cheesesteak. We can only assume they defiled two cities iconic sandwiches just to undermine the idea of brotherly love, but along the way they made one of the best pastrami sandwiches in New York. Who knew house-smoked brisket pastrami, sauteed onions and 'cheese sauce' on a grilled hoagie could taste so good? I guess Edith did.
S&P Lunch (formerly Eisenberg's)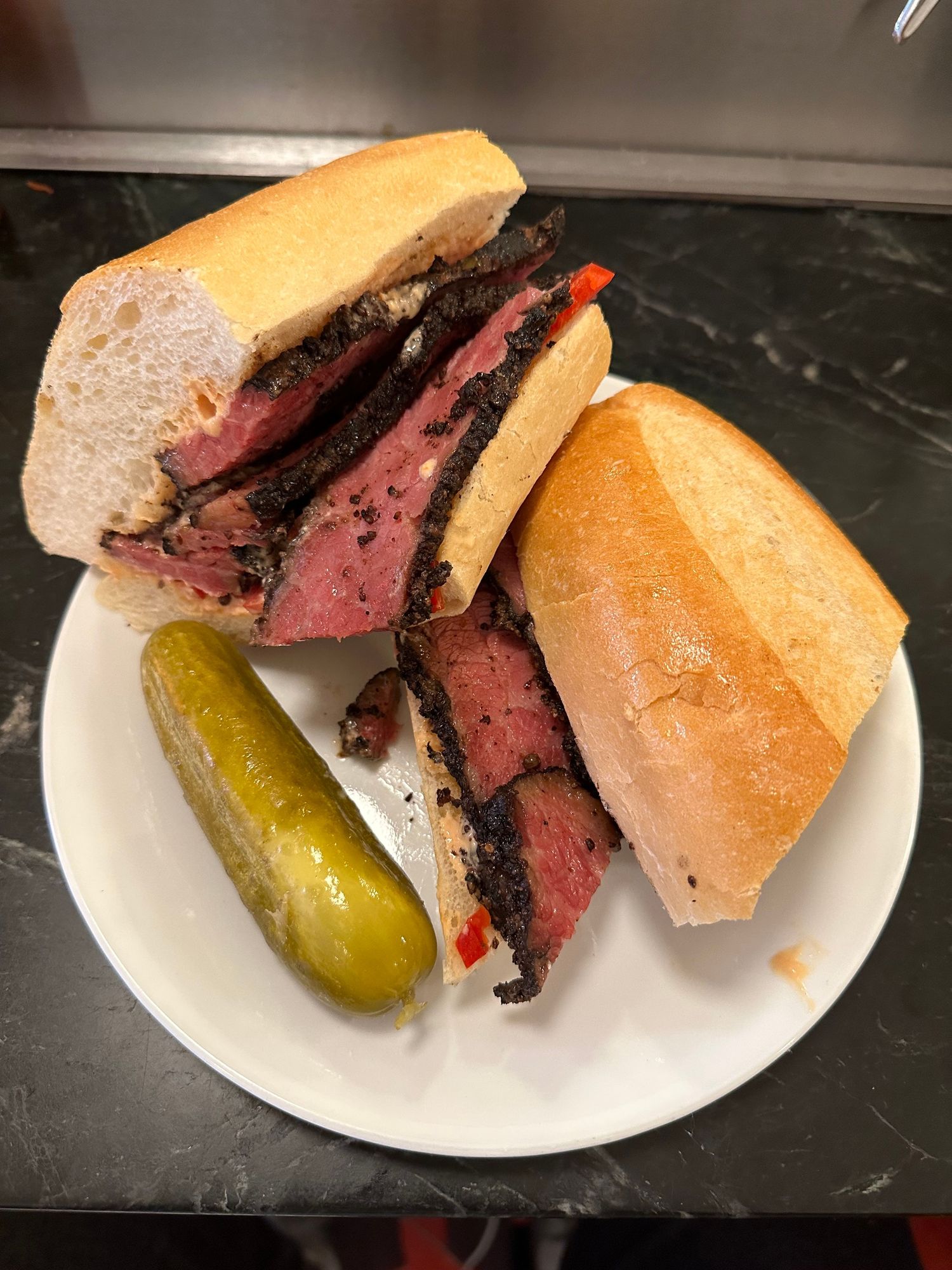 When you've been making pastrami sandwiches for over 90 years, you get pretty good at it. Sadly 92 years of slinging sandwiches couldn't save Eisenberg's from closing during the pandemic. Fortunately, the folks behind Court Street Grocers gave it a new life this year by re-opening this legendary spot under the new name S&P Lunch.
With the menu remaining relatively the same as its predecessor, its easy to jump straight into the classic pastrami on rye here. However, do NOT sleep on the S&P Regular. That same delicious smokey and fatty pastrami is given a new lease on life in this sandwich, much like its surrounding deli has, with spicy cherry peppers and comeback sauce on a club roll. Eat it and instantly understand why they call in comeback sauce. You'll be returning soon.
Harry & Ida's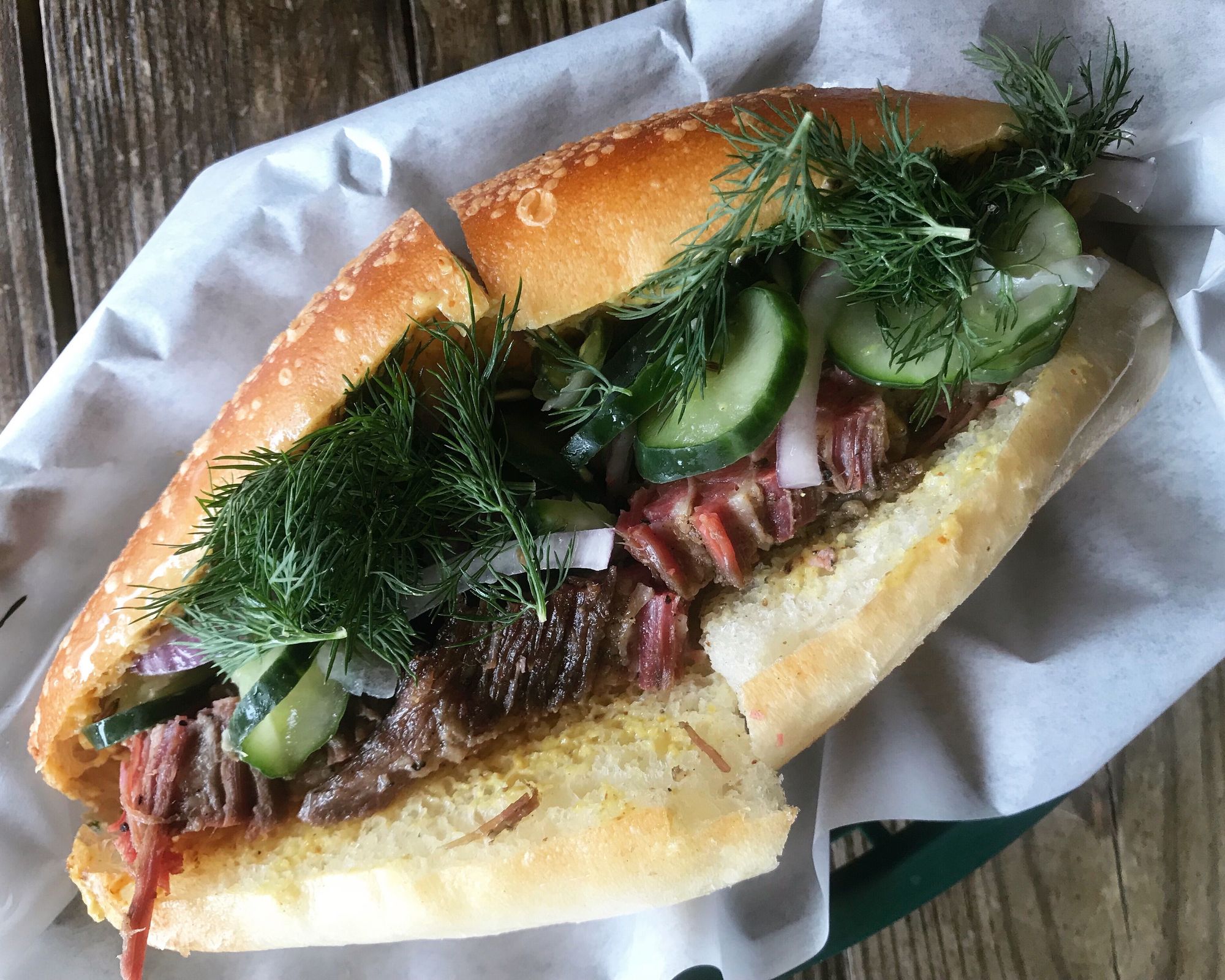 The bad news is that Harry & Ida's has been shut for over two years now. Sorry. So, their inclusion in this list is simply an attempt to convince Will and Julie to reopen their incredible deli and offer us their outstanding sandwich – The Pop's.
Combining thick cut pastrami, buttermilk fermented cucumbers, fresh dill, anchovy infused mustard and a crusty hero, this sandwich was so delicious that it was known to convince people to quit their careers in the law for a career in the sandwich. True Story. Bring it back!
Redfarm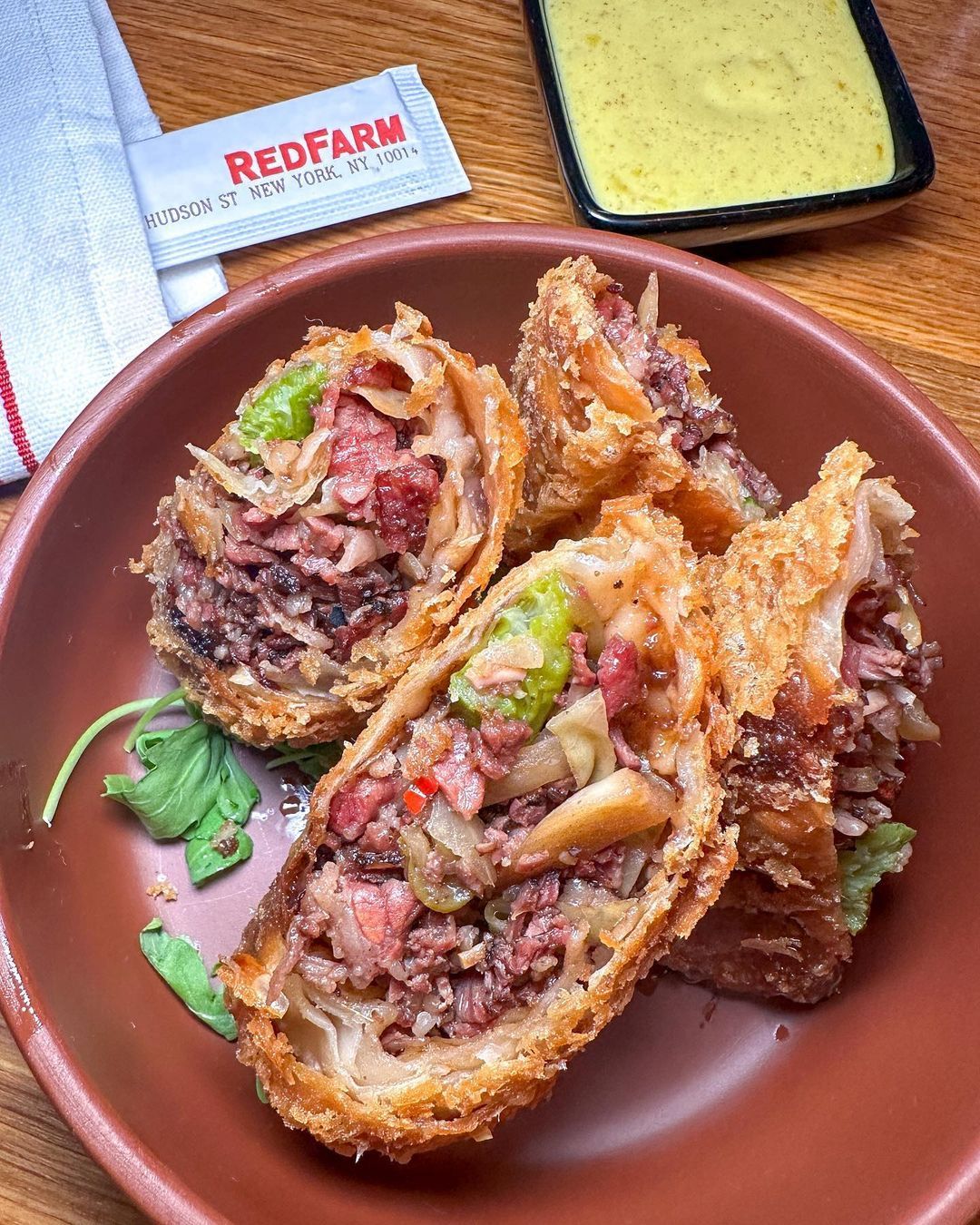 Is an eggroll a sandwich? Carbs around meat and vegetables delivered in a hand-held form – Yes. Are the Redfarm pastrami eggrolls friggin delicious – Absolutely. So, before you complain, just go to Redfarm and eat this delicious pastrami with a hint of heat, encased within crispy, doughy wrappers, served alongside a pool of sweet mustard. Then thank us later.
Bonus tip – Katz Deli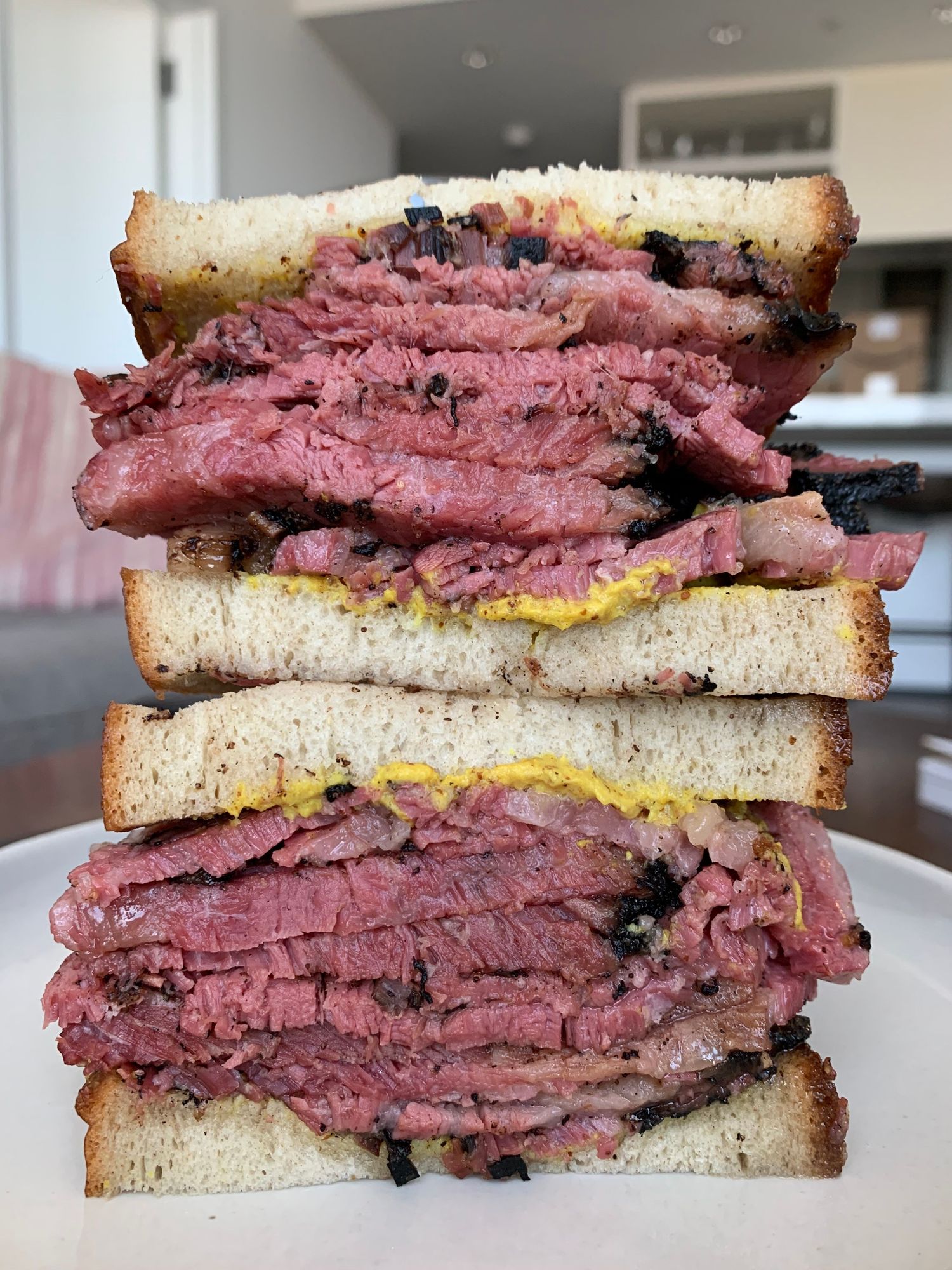 OK, so we need to discuss this. Katz is an institution. An experience. An icon. Katz may make the best pastrami in New York City (cue arguments about 2nd Ave Deli, Pastrami Queen, Ben's Deli etc). I mean, Katz does spend 10 laborious days doing so, so it's not a stretch to suggest theirs is the best.
But their pastrami sandwich is seriously let down by the choice of untoasted rye bread that falls apart on the very first bite of the sandwich, crumbling dry residue over the moist, fleshy, delicious meat that remains on your plate after the sandwich implodes. So go and enjoy a delicious pile of meat masquerading as a sandwich. But if you want a taste of everything in your hands in each bite from beginning to end, see the list above for when you're in the mood for a pastrami sandwich in New York.