Just like the most unique sandwiches of New York City, there are some eccentricities about NYC that can leave you in both awe and bewilderment. The complex maze of platforms and tunnels at Fulton St Station. The energizer bunny speed of pedestrians. The ability of city residents to identify dog and human poo in an instant. Do these exist anywhere else in the world in such a way? I think not.
A tour we think you'll love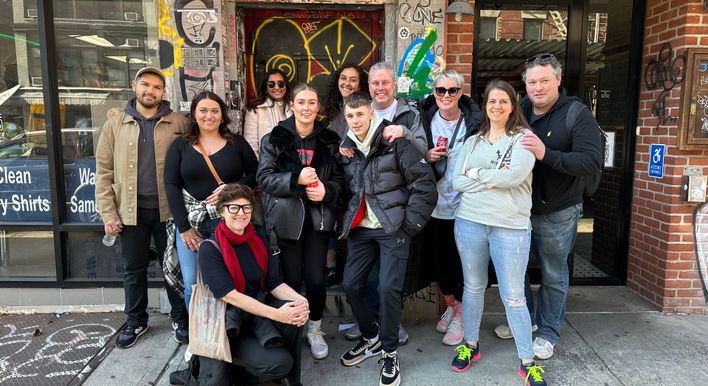 Brooklyn Sandwich Tour
From $65
View tour
But as the great poet M. Monroe once said "it's better to be ridiculous than absolutely boring", so the chefs that create sandwiches outside of those standard ham, cheese and mayo monstrosities we all grew up on are owed our gratitude, or at the very least our attention. With that in mind, here are nine of the most unique sandwiches in New York City for you to attend.
Pho #1 – Sunny & Annies Deli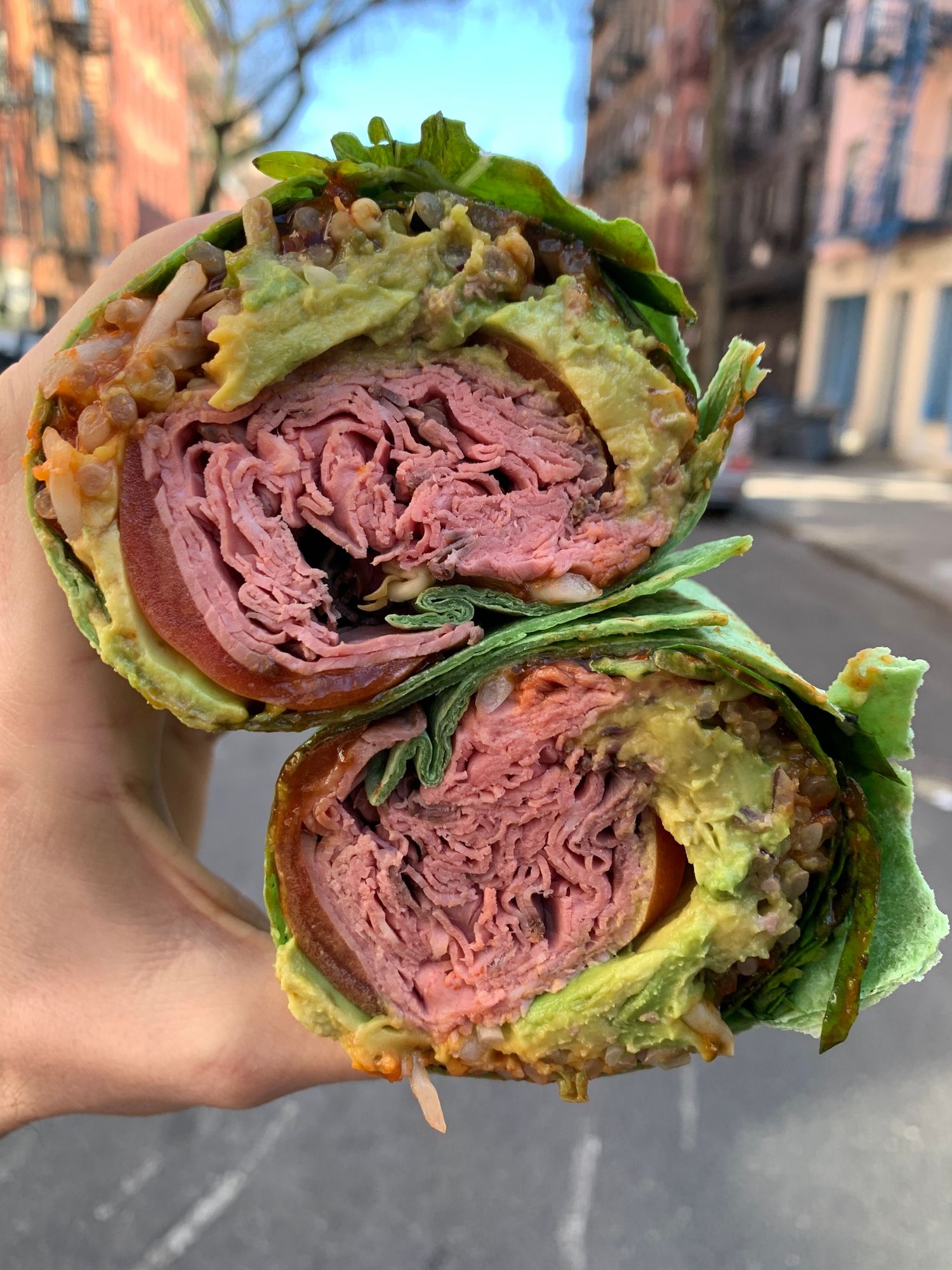 Have you ever looked at a steaming hot bowl of pho and thought to yourself "Geez I wish this was a sandwich"? No? You're not alone, as most sane humans also missed this wild gastronomic fusion. Fortunately for us Sunny & Annie's Deli – the delightful little East Village bodega – didn't miss this and so in turn created the outrageously good Pho #1, putting a Vietnamese soup inside bread.
Now truth be told, there is no broth inside this sandwich – of course not, how would that even work? But close your eyes and smell the sandwich when you unveil it from its butcher's paper prison and you'll be convinced you have a bowl of the good stuff in front of you. Instead of soup, you'll find the rare roast beef, bean sprouts, red onion, cilantro, hoisin sauce, sriracha sauce and Thai basil from your pho intermingled with avocado, tomato, and lettuce from the sandwich world. Throw it all inside a spinach wrap to level up and it's suddenly a sunny day inside a breaded world.
Broccoli Reuben – Court Street Grocers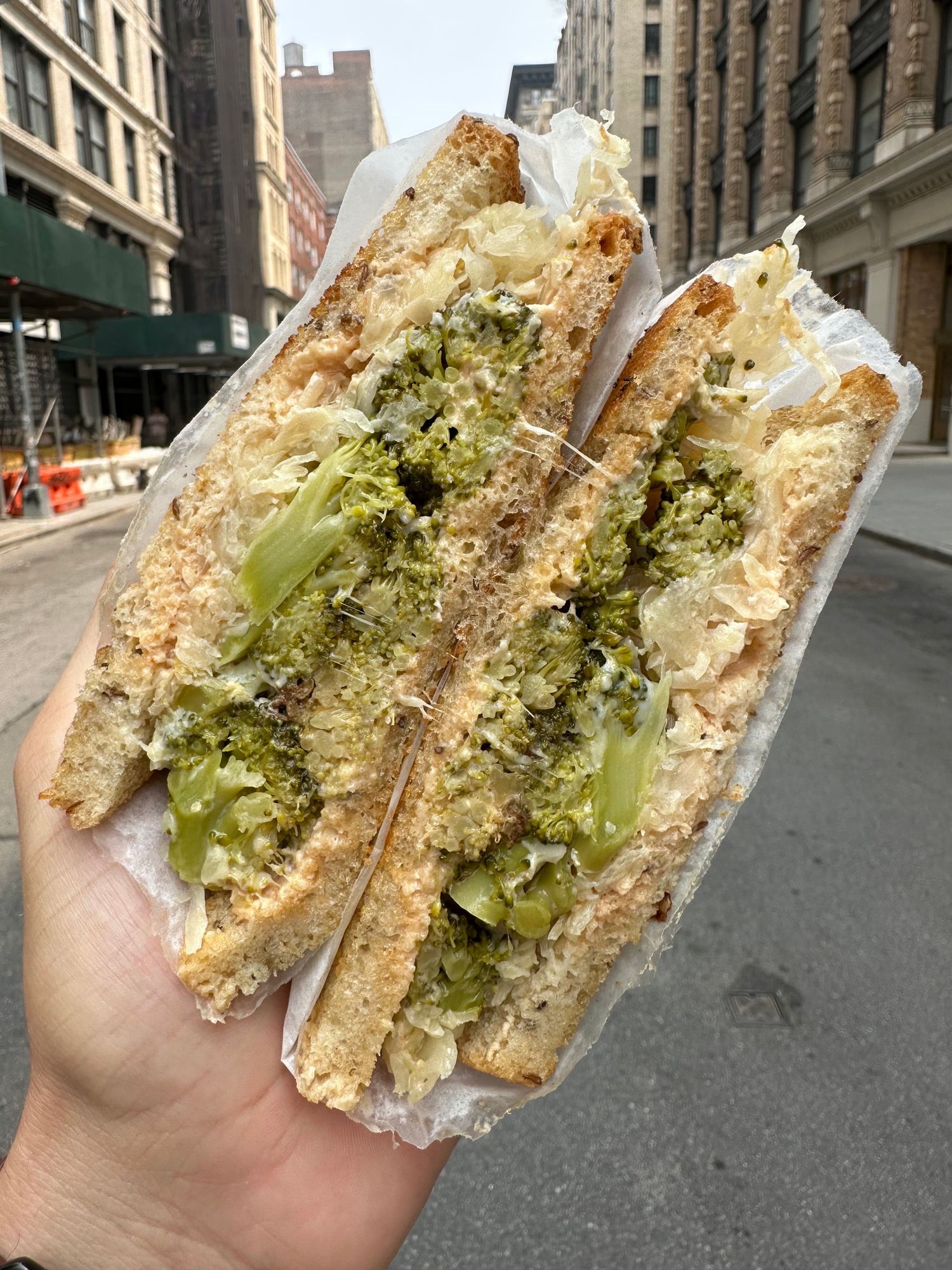 Depending on who you ask the reuben sandwich was born in one of two places – New York or Nebraska. Smarter men than us can figure out the true birthplace of this famous sandwich (definitely Nebraska), but those brainwaves should be saved for a higher purpose. Because you can't spell unique without IQ, and a lot of that has already gone into turning the broccoli reuben into one of the most unique sandwiches in New York City that even the most ferocious carnivores will enjoy.
Here, Court Street Grocers set aside the traditional corned beef in a reuben for a roasted broccoli that retains its crunch inside this otherwise wonderfully moist sandwich. The tangy sauerkraut and rich swiss cheese are both responsible in some part for this moisture, but it's the comeback sauce that really shines here. Eat it the once and you'll understand the name. Luckily CSC toasts the rye bread to keep it all together despite the moisture. Smart.
Scallion Pancake Burrito – Forsyth Fire Escape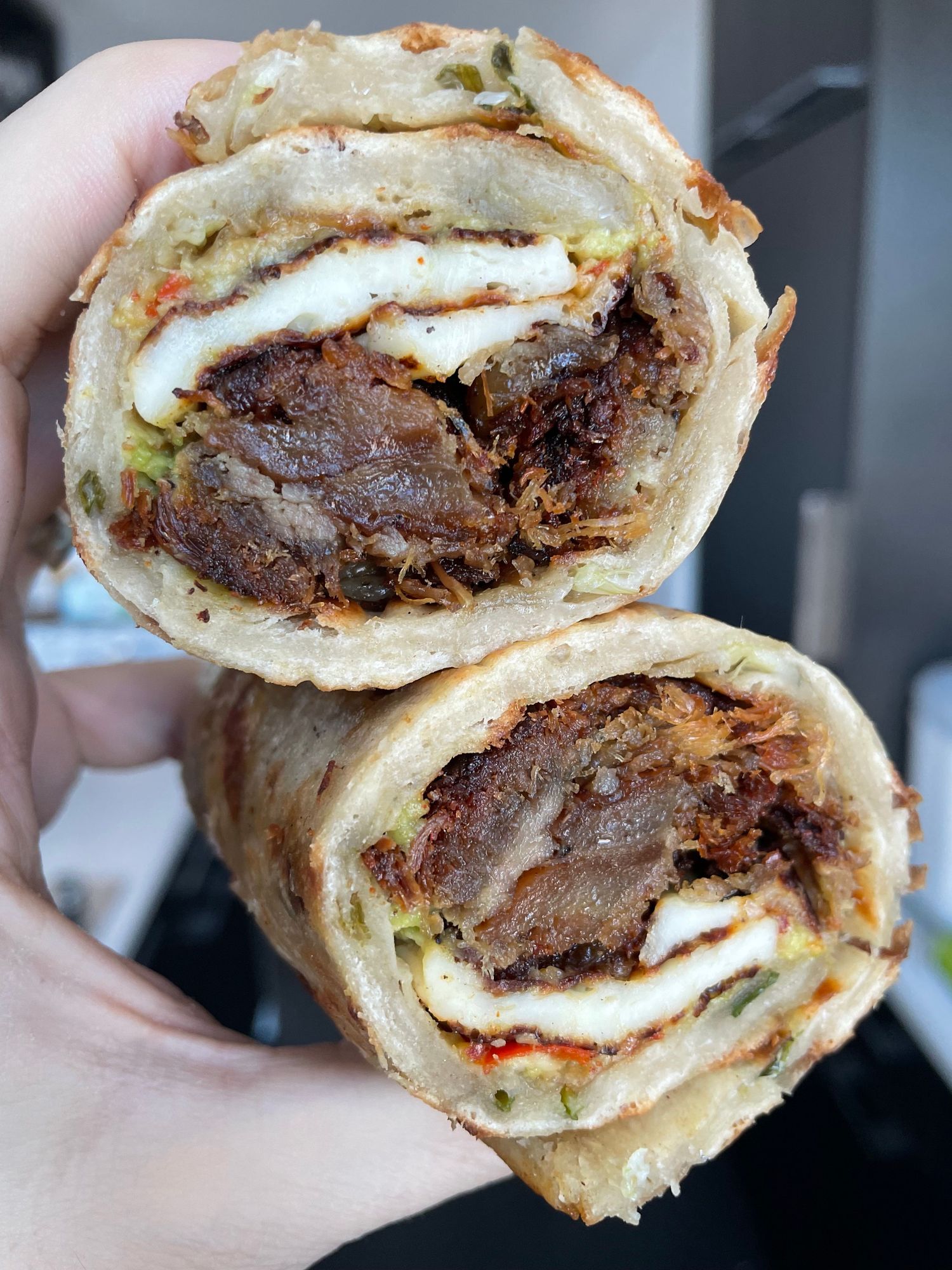 During that hazy memory known as Covid, some of us decided the only thing to do was drink ourselves up a new belt hole. Others of us (aka Forsyth Fire Escape) thought they'd be more productive and invent one of the most unique sandwiches in New York – a scallion pancake burrito. Admittedly, given how f*cking delicious the burrito is, eating them definitely contributed to that belt buckle increase, but no one is complaining here.
The burrito is just what you imagine, and more. A wonderfully oily scallion pancake that is warm, soft and aromatic all at the same time. The slow cooked pork doesn't require teeth to eat it as it falls apart in your mouth, while fried queso blanco, guacamole and lemongrass chili crisp harmonizes the entire sandwich. They've also been collabing with Taqueria Ramirez, Café Panna and (our favorite from the best burgers in New York list) 7th Street burger, so get those notifications on to discover their next great NYC unique sandwich.
Flammin' Hot Cheetohs Burger – Fatimah Grill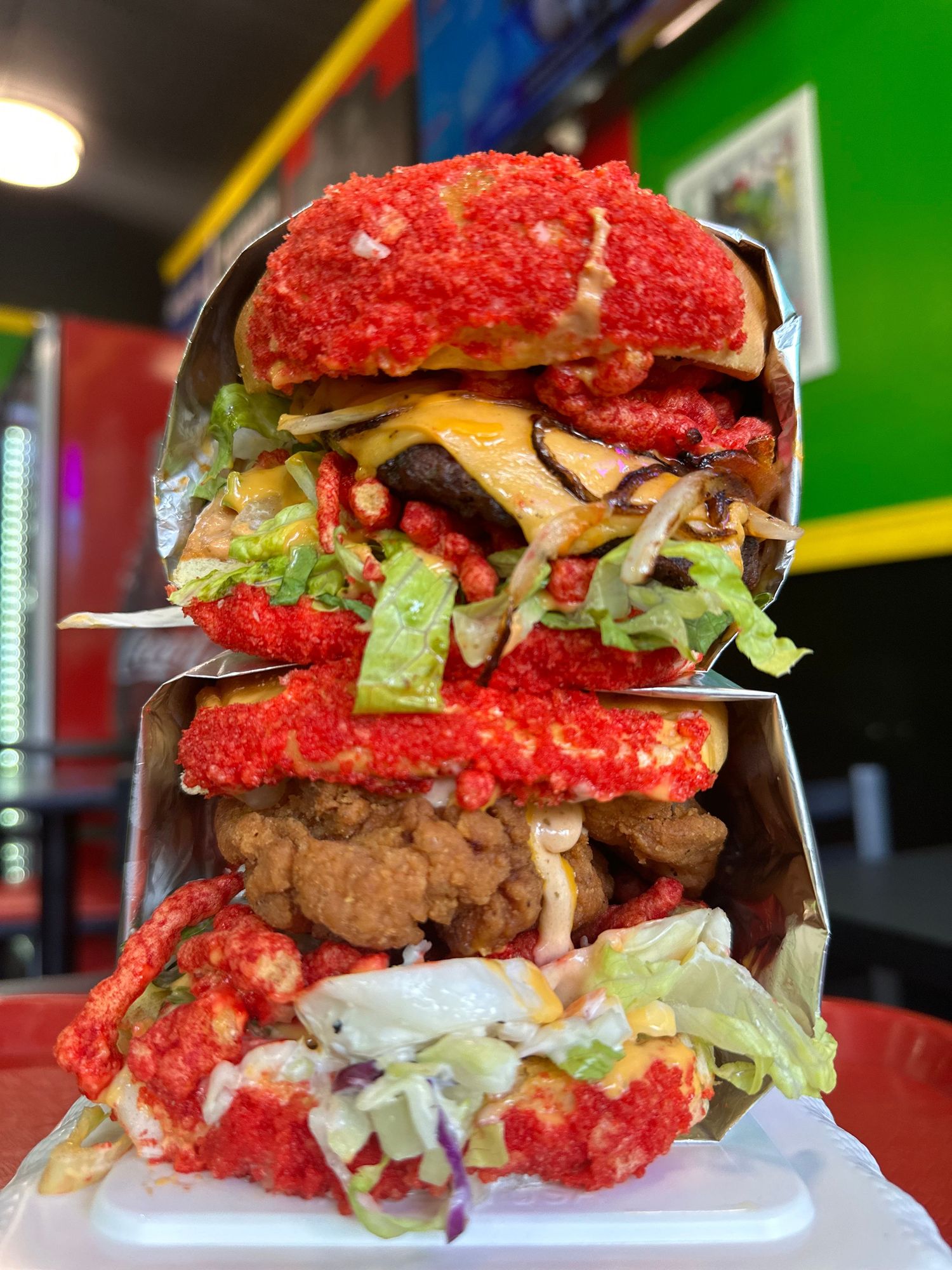 To coat your burger in flamin hot cheetohs dust you have to be a 'flamin galah' (ask your Australian friend what that means, folks). But Fatma's Grill has had the last mad laugh as their hot cheetohs burger, and wild range of middle eastern fusion food, led them to open eight locations from coast-to-coast on the back of these unique sandwiches.
It's hard to take your eyes off the burger when it lands at your table, mostly because of the lava-esqe coloring of the cheetah dust. But under the orange coat is a burger that hits all the right notes. Two thick patties of juicy beef surrounded by classic ingredients of onion, lettuce and pickles as well as less classic hot cheetah chips and nacho cheese. Brioche buns are the sweet to the cheetohs dust spicy, and ultimately you're the mad one if you don't eat it.
Clucking Waffle – Namkeen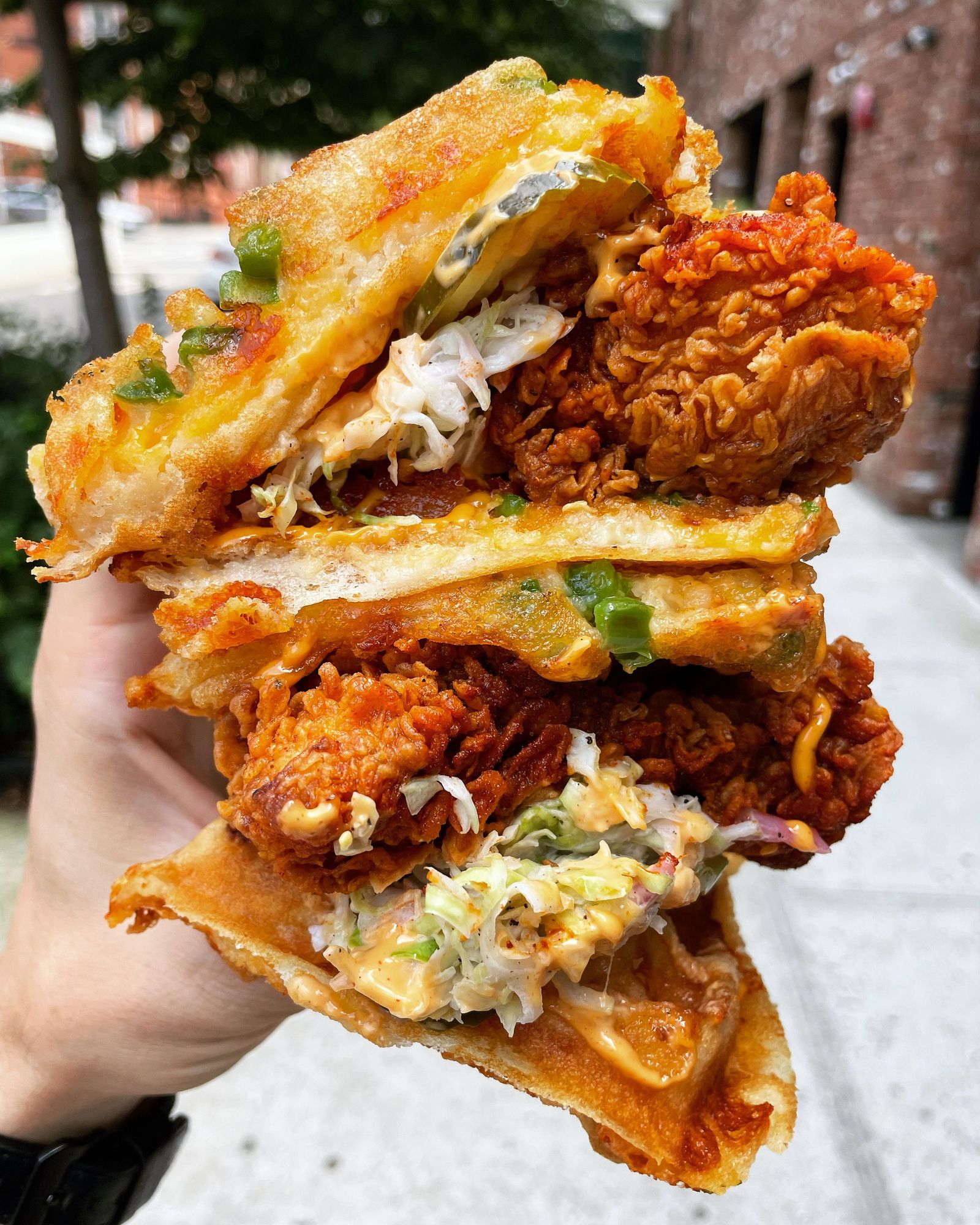 Bert and Ernie. Peanut butter and Jelly. Romeo and Juliet. There have been some iconic duos over the years, but arguably the tastiest of them all is chicken and waffles. Objectively it doesn't make sense – sweet waffles contrasted by savory fried chicken. Throw in a condiment as well and you should have a recipe for disaster. That is until your tastebuds take over from your brain and you realize how good of a combo it is, and how Namkeen may have just perfected it with their Clucking Waffle sandwich.
Wrapping your hands around the two cheddar Belgian waffles surrounding one of the most unique sandwiches in New York is no joke. Inside the crunchy cheesy goodness you'll find thick spicy chunks of fried chicken with creamy coleslaw and tangy pickles to help soothe the heat in your mouth. A chipotle mayo also raises and cools the heat in waves, but by the time you're done with this dish you'll be sweating no matter what you try and do. Embrace it.
Eggplant Milanese Torta – Guevera's Cuban Café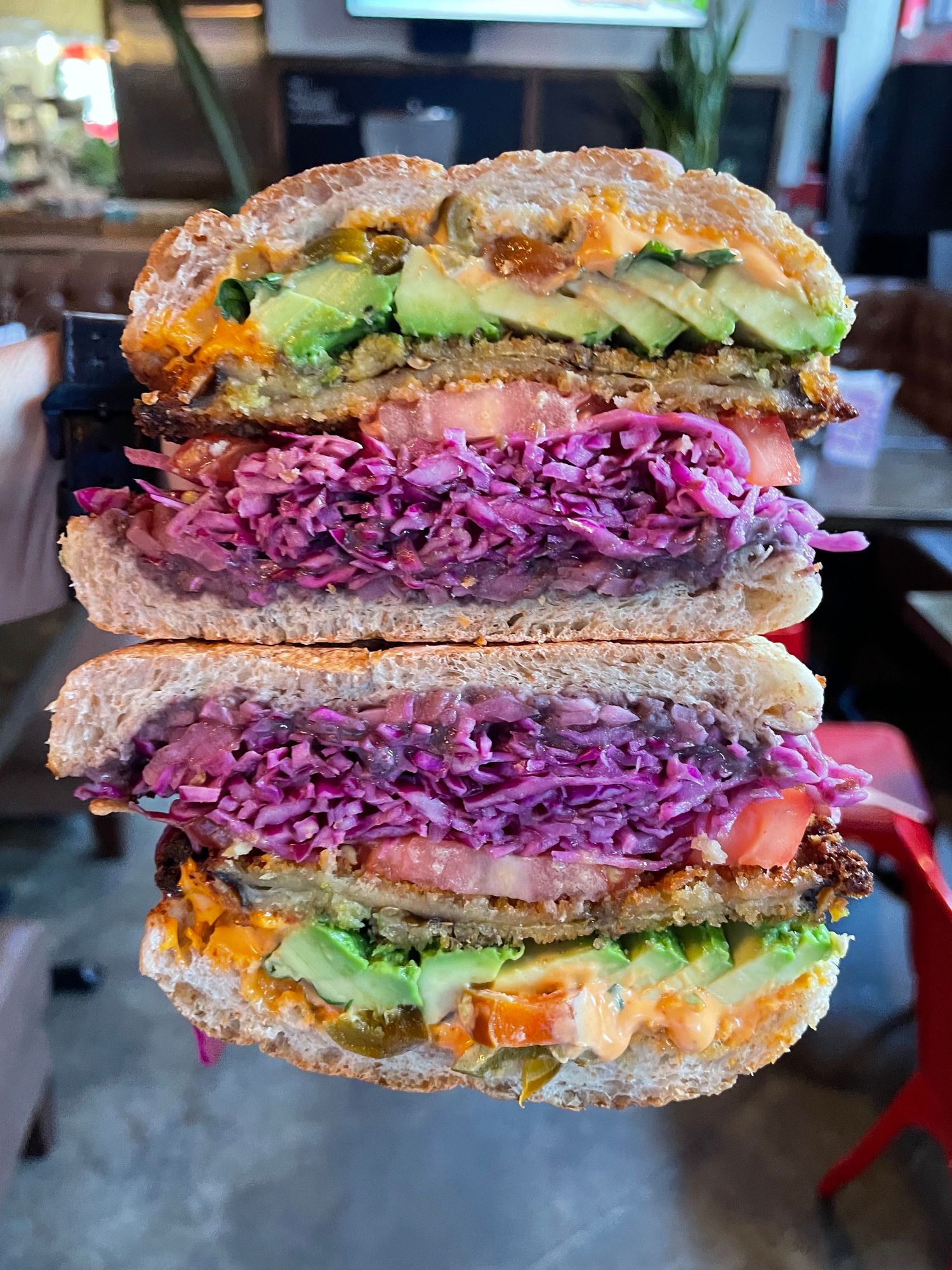 If Taste The Rainbow wasn't already taken, then it would be the perfect slogan for one of the most unique sandwiches in New York City – the eggplant Milanese torta from Guevera's Cuban Café. This spectacular vegan sandwich can be found inside the Williamsburg location of Mekelburg's, where you can also drink plenty of craft beers if eating vegan is an intimidating prospect for you. You'll certainly need a couple just to calm down at the size of the sandwich when it arrives, but as they say, You're Not You When You're Hungry, so at least you'll be yourself at the end of this sandwich.
The rainbow begins with the effervescent coloring from purple cabbage slaw, red heirloom tomatoes, pickled peppers, green avocado and cilantro. It's a feast for the eyes and the tongue, and this alone is a combination of flavors that simply Makes Mouths Happy. An eggplant cutlet that is crispy on the outside and soft in the middle is surrounded by refried beans and a vegan mole mayo whilst a Kaiser roll ensures the whole thing stays together so that is Melts In Your Mouth, Not In Your Hand.
Kangaroo cheesesteak – Foxface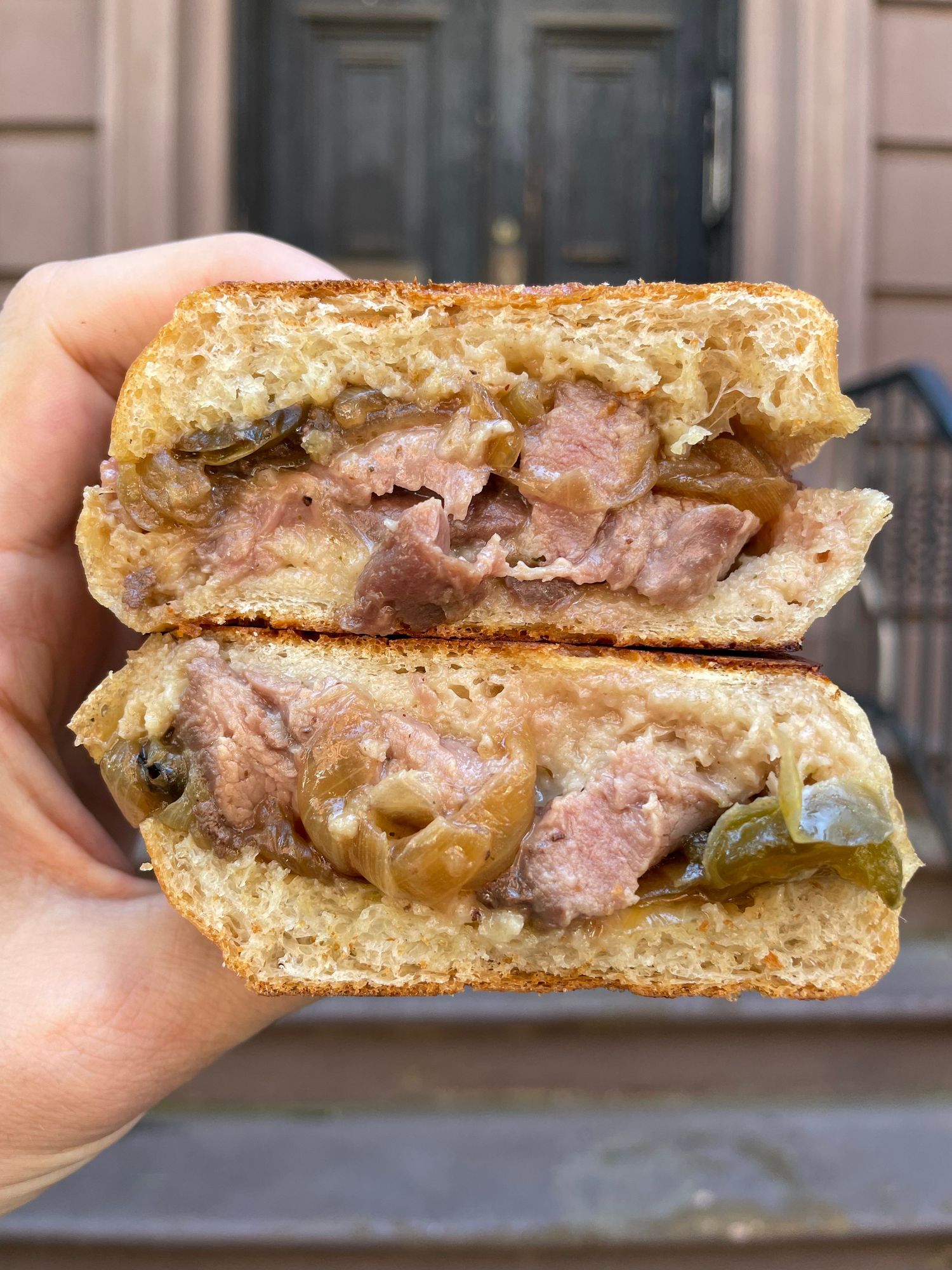 Just to make a few things about Australia clear. No Australian has ever eaten, let alone heard of, a bloomin' onion. We don't put shrimp on a barbie. Fosters sucks so hard that even Aussie drunks won't touch it. And we don't ride a kangaroo to school. We do eat them though. Sorry to break it to you, America. Which is why the Kangroo Philly Cheesesteak (aka the 'New South Philly') at Foxface was such an enticing sandwich when it was available.
As far as most unique sandwiches in New York City goes, the list could have just been Foxface's menu copied and pasted. From the La Gaucha (venison cutlet and smoked duck fat potatos) to the Strawberry Field (smoked tomato, strawberries and ricotta), to the GOAT (slow braised goat neck) to the New South Philly and more, each one was more unique than the next. As for the New South Philly, with its tender hunks of kangaroo meat (and no, that's not a reference to the Thunder From Down Under crew), sweet and tangy caramalized onion and generous drizzle of melted fontina cheese, this dish was a brilliant twist of a classic Philladephia sandwich. Now all we need to do is put the pressure on Sivan to reopen the most unqiue sandwich shop in the city…
Chicken tikka naan taco – Taco Mahal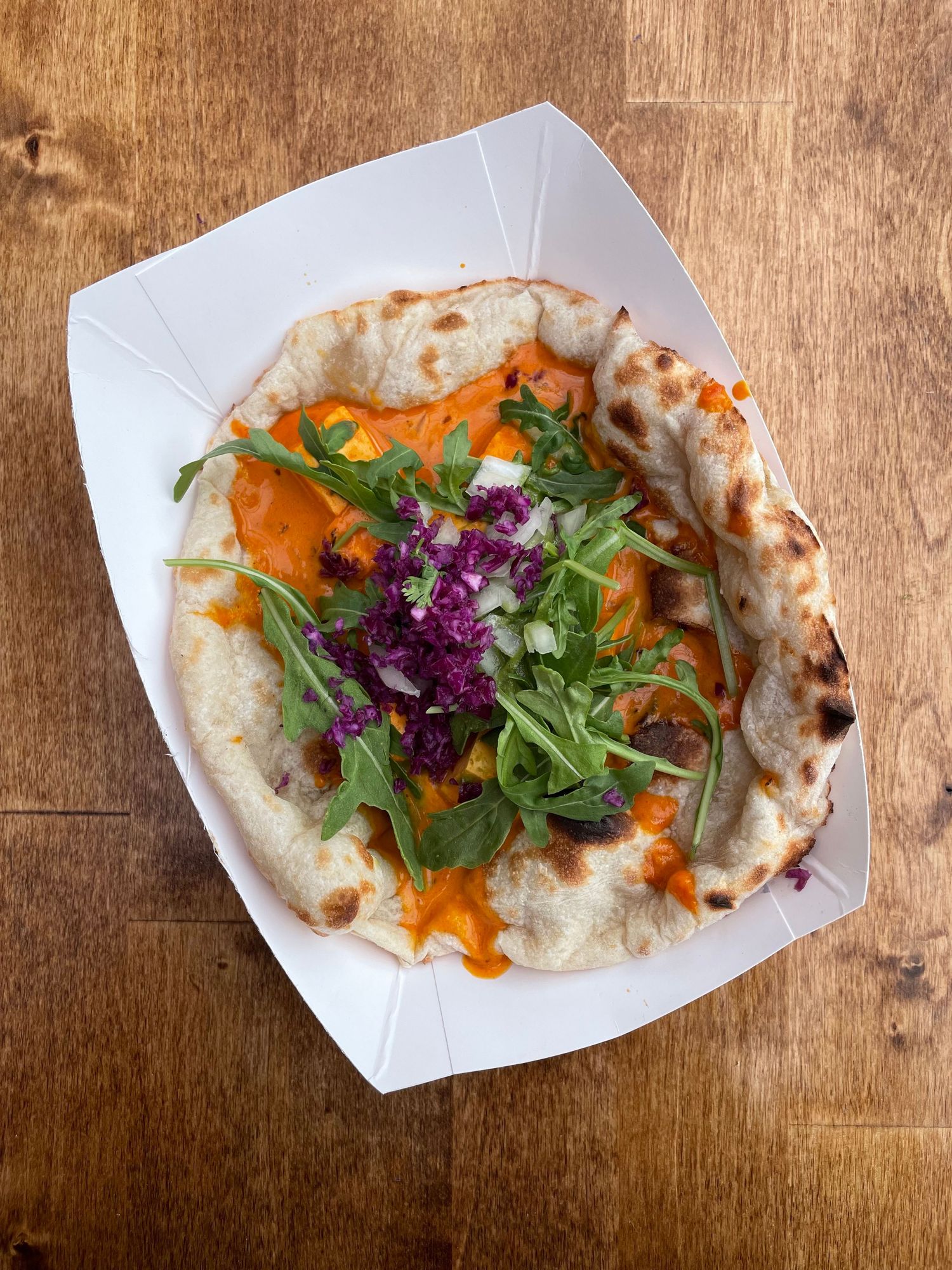 Across the globe there are certain drunk foods that just hit after a few "mummy daddy juices" on a night out. In NYC it's a slice. For the Brits, a curry. And in many other parts of the globe it's a dirty kebab. Somehow though Taco Mahal has managed to see the first through the trees and combined the best elements of all three into one spectacular sandwich – a chicken tikka naan taco.
A puffy white cheesy garlic naan is cooked fresh in store and then laid down like a pillowy cloud inviting angels to rest on. Those angels come in the form of rich and creamy chicken tikka with that glowing orange tomato sauce poured all over the cheesy naan. To give the façade of healthiness, arugula, cilantro, purple cabbage and chutney are sprinkled onto the sandwich, but if you've already had 10 beers before devouring this then health isn't really a concern for you is it. The beers will also help you care less about how messy you're about to become trying to eat it. Its the same result even if you skipped the beers to be honest, so just go for it.
Clobster Roll – The Crabby Shack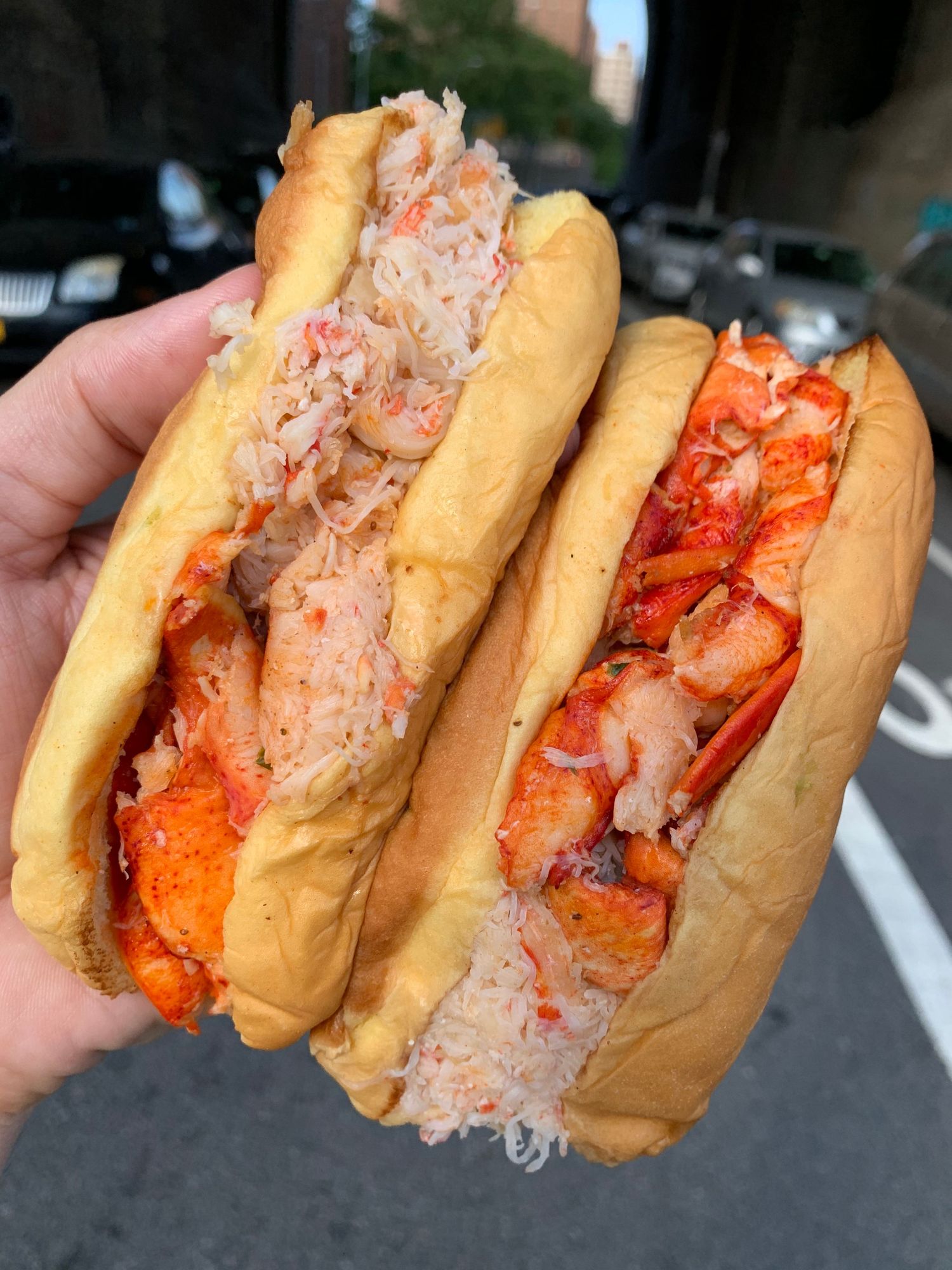 There's something satisfying about cracking a lobster or crab leg on a summer's afternoon. Working your way through the laborious task of de-shelling that deep water crustacean, just to get out small morsels of sweet ocean meat. The effort makes it taste so good. However, there is also a lot of satisfaction with someone else doing all the work for you, taking away the need to choose between lobster and crab, and putting both meats inside of a buttery roll. That someone is The Crabby Shack who did it with their 'Clobster Roll'.
The Clobster Roll is a deceptively complex sandwich. What appears to be just three ingredients – lobster, crab and potato roll – all come served with the inperceivable techniques of care and experience. Owners FiFi and Gwen cook their steamed crab meat in warm garlic butter, while the lobster meat are cookied in house special lobster sauce. The only problem with this entrant into the most unique sandwiches in New York list is deciding which end to start eating from.